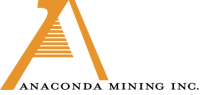 TORONTO, ONTARIO -- (Marketwire) -- 02/28/13 -- Anaconda Mining Inc. ("Anaconda" or "the Company") - (TSX: ANX) is pleased to report it has completed phase one of the 2013 diamond drilling program at its Pine Cove mine on the Baie Verte Peninsula, Newfoundland. The ten-hole, 1919-metre program successfully explored the area immediately west and down-dip of the Pine Cove deposit.

Highlights:

Western Extension Area


--  Hole PC-13-196 intersected 11.4 metres of 2.19 grams per tonne ("g/t")    gold from a depth of 26.6 meters;--  Additional mineralization in hole PC-13-196 was intersected at 63.9    metres and again at 96.0 metres;--  PC-13-196 and PC-13-201 encountered new mineralization adjacent to the    ultimate open pit boundary; and--  1,000-metre follow-up drill program is scheduled for the end of March to    expand this new zone and assess potential for open pit extension and    mining cost reductions.
Down-dip Extension Area
--  Hole PC-13-195 intersected 12.06 metres of 3.32 g/t gold from a depth of    168.66 metres;--  Hole PC-13-199 intersected 3.06 metres of 7.69 g/t gold from a depth of    147.2 metres:--  Four, widely spaced drill holes all intersected mineralization up dip    from PC-11-181, which assayed 2.50 g/t gold over a core length of 40.8    metres (Anaconda Press Release, July 27, 2011); and--  The drilling continues to demonstrate the potential continuity of    mineralization within the down-dip zone.
President and CEO, Dustin Angelo, stated, "Phase one of the 2013 diamond drilling program has been a success. In the ten-hole program, Anaconda discovered a potential, new gold zone adjacent to the western part of our current pit. Mineralization in hole PC-13-196 is shallow and similar grade to what we are mining in our pit. A new, near surface gold zone could have a significant, positive impact on our mine plan. Just as important, we've made progress on demonstrating the potential continuity of gold mineralization in the down-dip area, anchored by hole PC-11-181. Four more holes drilled between the pit and PC-11-181 returned mineralization. As a result of our successful phase one 2013 diamond drilling program, we will do an additional 1,000 metres in March."
Table 1:
----------------------------------------------------------------------------                                                                        GoldDrill Hole          Dip    Depth      From        To    Width    grams/tonne----------------------------------------------------------------------------Down-Dip Extension----------------------------------------------------------------------------PC-13-195            90      188    168.66    180.72    12.06           3.32----------------------------------------------------------------------------                       Including    168.66    176.58     7.92           4.67----------------------------------------------------------------------------                       Including    171.66    172.62     0.96          12.30----------------------------------------------------------------------------PC-13-198            90    231.4    119.00    120.80     1.08           2.33----------------------------------------------------------------------------                                    171.04    177.98     6.94           1.74----------------------------------------------------------------------------                       Including    171.04    173.13     2.09           3.51----------------------------------------------------------------------------                       Including    176.00    177.98     1.98           1.89----------------------------------------------------------------------------                                    193.86    197.07     3.21           1.26----------------------------------------------------------------------------PC-13-199            90    289.3    147.20    150.26     3.06           7.69----------------------------------------------------------------------------                       Including    147.20    148.17     0.97          20.22----------------------------------------------------------------------------PC-13-200            90    163.1     49.00     50.00     1.00           1.56----------------------------------------------------------------------------                                     94.88     95.88     1.00           1.36----------------------------------------------------------------------------                                    142.65    144.50     1.85           3.12----------------------------------------------------------------------------Western Extension----------------------------------------------------------------------------PC-13-196            90    146.9     26.60     38.00    11.40           2.19----------------------------------------------------------------------------                                     49.00     54.25     5.25           1.28----------------------------------------------------------------------------                                     58.05     60.35     2.67           1.39----------------------------------------------------------------------------                                     63.86     68.00     4.14           3.41----------------------------------------------------------------------------                                     96.02    102.20     6.18           2.16----------------------------------------------------------------------------                       Including     99.00     99.97     0.97           8.78----------------------------------------------------------------------------                                    111.00    112.00     1.00           6.13----------------------------------------------------------------------------                                    116.97    126.00     9.03           0.83----------------------------------------------------------------------------PC-13-197            90    160.9    138.50    139.51     1.01           2.61----------------------------------------------------------------------------PC-13-201            90    169.5     16.63     18.86     2.23           1.60----------------------------------------------------------------------------                                     95.22     96.23     1.01           1.23----------------------------------------------------------------------------                                    138.50    146.27     7.77           3.93----------------------------------------------------------------------------                       Including    142.20    143.20     1.00          17.74----------------------------------------------------------------------------PC-13-202            90      191                              Assays Pending----------------------------------------------------------------------------PC-13-203            90    208.9                              Assays Pending----------------------------------------------------------------------------PC-13-204            90    170.1                              Assays Pending----------------------------------------------------------------------------