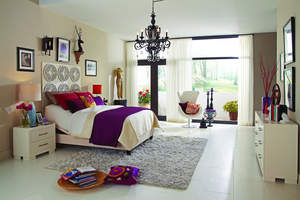 Photo courtesy of Leggett & Platt


MISSION, KS -- (Marketwire) -- 02/28/13 -- (Family Features) When it comes to adding technology to your home, the bedroom might not be the first place you would consider. But the reality is that high tech is becoming an integral part of every living space -- including the bedroom.

A survey by the International Furnishings and Design Association (IFDA) looked at what designers expect to see in American homes by the year 2020. The report predicts that:

•Master bedroom suites will get busier, sharing time as a home office, media center or exercise room. •97 percent of respondents believe that by 2020 many home furnishings will be activated by means such as voice and sensor. Primary candidates for remote control/motorized operation include lighting, entertainment gear, environmental controls and window treatments.

"High-tech is here to stay," said Emily Henderson, HGTV "Design Star" winner and designer on "Secrets from a Stylist" on HGTV. "Technology can make your life easier in so many ways. And with so much activity centered in the master suite, it makes sense to add useful tech devices into that living space, too."

Here are a few of Henderson's favorite ways to modernize the master bedroom in style:

Bed control
"It shouldn't take a lot of work to get comfortable enough to relax," said Henderson. "Traditional beds only have one position, and that's not going to be a good fit for everyone or every activity. That's why I love Leggett & Platt's adjustable bed bases. With a wireless remote I can easily change my position to be comfortable no matter what I'm doing."

Henderson says that today's adjustable base beds are not only more functional than old models, but they're more attractive, too. "You can find a style to fit your room and a model that offers the level of technology that you're comfortable with," she said. "For example, the Leggett & Platt Designer Series has intuitive digital remotes that let you adjust both the head and the foot of your mattress so you can find exactly the right position. They even have a massage feature for a little stylish pampering and a bed skirt option for a more traditional look." Learn more at www.lpadjustablebeds.com.

Motorized window treatment control
"It's such a luxury to be able to lie in bed and use a remote to open your curtains or shades in the morning," said Henderson. "I think it officially means you are a grown up, but in a good way."

Henderson recommends that you get shades or curtains that have blackout lining, and ideally two settings -- one for privacy and light control, which would be lighter and thinner, and one with the blackout lining for that perfect dark room that you can sleep in. Blackout curtains also muffle outside noise. "I'm a big fan of The Shade Store motorized window treatments, which are all custom made. They are super high quality so less likely to break down and are still very attractive."