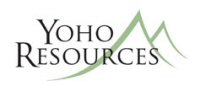 CALGARY, ALBERTA -- (Marketwire) -- 02/27/13 -- Yoho Resources Inc. ("Yoho" or the "Company") (TSX VENTURE: YO) has filed today on SEDAR the financial statements for the three months ended December 31, 2012 and the related managements' discussion and analysis. Copies of these documents may be found on www.sedar.com.

Highlights


--  Yoho's production during fiscal Q1 2013 averaged 2,075 boe per day. With    recent drilling success at Kaybob, Yoho has an incremental 1,500 boe per    day of production scheduled to come on-stream in March 2013.--  Yoho generated funds from operations for fiscal Q1 2013 of $2.9 million    ($0.06 per share basic and diluted).--  Field net-backs for the Company's Duvernay wells were $39.61 per boe    during fiscal Q1 2013.--  Net exploration and development expenditures for Q1 fiscal 2013 were    $14.1 million. During the first quarter, Yoho drilled 2 (1.5 net) high    liquids yield natural gas wells.--  The Company maintained a flexible balance sheet with total net debt of    $29.2 million at December 31, 2012. The bank credit facility was    increased in January 2013 to $56 million from $52 million.
Operations Update
At Kaybob, the recently drilled Duvernay wells at Tony Creek (press release February 4, 2013) along with the 13-22 well at Tony Creek are expected to be placed on-stream during March 2013. Production
startup
from the Tony Creek block has been delayed by approximately 6 to 8 weeks due to unforeseen pipeline repairs to the third party main lateral which leads into the SemCams facility which the Tony Creek wells are tied into. The two recently drilled wells further solidify Yoho's view that the Company's entire land base at Kaybob is prospective for production from the Duvernay formation. Yoho currently has an inventory of 145 net Duvernay development locations at Kaybob. The high liquids content of the Company's natural gas production (100 - 160 barrels per Mmcf) from the Duvernay formation makes this play's economics extremely attractive at current commodity prices. The liquids blend is 60% to 65% C5+ with the balance comprised of propane and butane. The three wells at Tony Creek, expected to be on-stream by mid-March 2013, will add an estimated 1,500 boe per day (2,300 boe per day gross) of production (initial stabilized rate - first month average production rate) which is expected to increase Yoho's production to over 3,000 boe per day. Yoho expects to continue to produce these wells until May 2013, at which time they will be shut-in for approximately one month due to turnaround and maintenance at the third-party processing facility which the wells are tied into. Production from the wells will resume as soon as the turnaround is completed.
Outlook
For fiscal 2013, Yoho is currently planning a total capital program of between $35.0 and $38.0 million. The majority of the exploration program and related capital budget is allocated to the Duvernay at Kaybob. With the recent delays in bringing production on-stream and the scheduled turnaround at the SemCams KA gas plant in May 2013, it is estimated that Yoho's average production for fiscal 2013 will be approximately 2,700 to 2,800 boe per day. For the remainder of fiscal 2013, Yoho plans to drill 4 (2 net) horizontal wells from two separate pads sites at Kaybob. Activity levels for fiscal 2013 will continue to be monitored to align capital expenditures with expected cash flow and available credit lines. There are no impending land expiry issues at Kaybob in fiscal 2013. Yoho has the cash flow and available bank lines to fund planned activity in 2013 and exit the year without impairing the balance sheet.