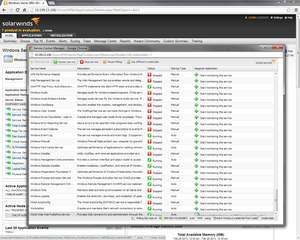 SolarWinds Server & Application Monitor will now enable IT professionals to resolve server and application issues directly from the product's web console.


AUSTIN, TX -- (Marketwire) -- 02/27/13 -- SolarWinds (NYSE: SWI), a leading provider of powerful and affordable IT management software, announced today the upcoming release of SolarWinds Server & Application Monitor (SAM), the cornerstone of SolarWinds' suite of comprehensive and affordable systems and application management products.

Designed to deliver agentless performance and availability monitoring, alerting and reporting for over 150 applications and server types, the latest version of SolarWinds SAM will now enable IT pros to resolve server and application issues directly from the product's web console. Remediation capabilities include starting and stopping services, killing rogue processes, and rebooting services, among others.

Other new and updated features in SolarWinds SAM include:

•New server hardware health monitoring support for popular blade chassis including HP C7000, HP C3000 and Dell M1000e •New native Windows Volume Mount Point monitoring •New storage volume performance metrics to find server issues caused by latency, queued disk I/O and high IOPS •New Windows Server network performance monitoring for bandwidth usage and errors •Extended integration with System Center 2012 through updated SolarWinds Management Pack for System Center Operations Manager •Improved Managed Service Provider (MSP) support to include new remote pollers, providing increased deployment flexibility to support distributed environments and MSP-style architectures

"SolarWinds SAM's remote pollers help our agility and the additional multi-vendor hardware support means we can rely on SAM as our single monitoring solution," said Sean Ackerman, infrastructure engineer for AAA Northern California, Nevada & Utah Insurance Exchange. "It [SolarWinds SAM] paid for itself in less than three months and it only gets better when integrated with SolarWinds Network Performance Monitor. Compared to the 'Big 3,' the value ratio is insanely high."

SolarWinds Comprehensive Systems and Application Management

SolarWinds SAM is one of nine key products in the SolarWinds systems and application management product portfolio. Together, these products address the troubleshooting, patch management and performance monitoring needs for IT pros in organizations of all sizes.