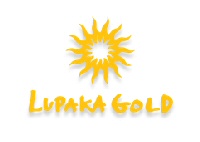 VANCOUVER, BRITISH COLUMBIA -- (Marketwire) -- 02/27/13 -- Lupaka Gold Corp. ("Lupaka Gold" or "the Company") (TSX: LPK)(LMA: LPK) is pleased to report the Company's updated National Instrument 43-101 ("NI 43-101") compliant Indicated and Inferred mineral resource estimates for its 100% owned Crucero project located in southeastern Peru. The updated resource estimate has been prepared by Tetra Tech WEI Inc. ("Tetra Tech"), formerly Wardrop Engineering, of Vancouver, Canada (see Table 1 below).

The Company reports an indicated resource of 31.4 million tonnes at 1.01 gold grams per tonne (g/t) capped grade for 1,017,999 gold ounces at the A-1 Zone within the Crucero Gold project. In addition, the Company reports an inferred resource of 37.2 million tonnes at 1.00 g/t capped grade for 1,190,526 gold ounces at the A-1 Zone. Both the inferred and indicated categories now have a gold grade of 1 g/t or higher as a result of the 2012 drill results. As the Crucero mineralized zone continues to grow both in size and confidence levels, the Company has changed from the inverse distance squared method used previously, to the more conservative and appropriate ordinary kriging method for resource estimation. Using the more conservative methodology, estimated inferred gold ounces increased by 84% and inferred grade improved by 45% as compared to the last resource update completed March 5, 2012, primarily due to the inclusion of the 2012 drill results. The new estimation method did however result in estimated indicated ounces decreasing by 11% and indicated grade decreasing by 2%.

Eric Edwards, President and CEO of Lupaka Gold, commented, "We are extremely pleased with the growth in both gold ounces and grade of the A-1 Zone resource as announced in today's updated resource estimate. The A-1 resource is the cornerstone of what we believe is a district-style mining camp at Crucero. We are excited to continue testing additional anomalies at Crucero as we focus on increasing the total resource."

The following table summarizes resources estimated at a 0.4 g/t threshold (cut-off), effective as at February 27, 2013:


                                  Au          Au       Au OZ    Au OZ(i)Resource                         G/T      G/T(i)      (Troy)      (Troy)Category          Tonnes    Uncapped      Capped    Uncapped      Capped------------------------------------------------------------------------Indicated     31,403,987        1.12        1.01   1,127,533   1,017,999Inferred      37,170,436        1.15        1.00   1,370,729   1,190,526                                    ------------            ------------(i) - Gold grades capped at 17 g/t 1 Troy Ounce = 31.10348 grams
Resource estimates generated at varying threshold (cut-off) gold grades are presented in Table 1 at the end of this news release.
Mr. Edwards continued, "The A-1 Zone is continuing to grow, and continuing to show that the resource has a distinct higher-grade core clearly visible in the cut-off grade sensitivity table. The A-1 Zone remains the only zone significantly drilled of the 11 known exploration anomalies currently identified at the Crucero Gold Project. This year, we plan to focus field work and drilling on new target anomalies that have not been drilled previously. With our current geological understanding of the A-1 Zone, we look forward to an exciting exploration year ahead."