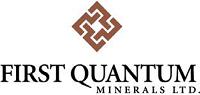 VANCOUVER, BRITISH COLUMBIA -- (Marketwire) -- 02/27/13 -- First Quantum Minerals Ltd. ("First Quantum" or the "Company") (TSX: FM)(LSE: FQM) today announced that it has extended its offer (the "Offer") to acquire all of the outstanding shares of Inmet Mining Corporation ("Inmet", TSX Symbol "IMN") by delivering written notice of such extension to Computershare Investor Services Inc., in its capacity as depositary for the Offer. The Offer will now be open for acceptance until 11:59 p.m. (Eastern Daylight Time) on March 11, 2013, unless further extended or withdrawn.

A Notice of Variation and Extension has been filed with the Canadian securities regulators and will be available for review at www.sedar.com. The Notice of Variation and Extension is also being mailed to Inmet shareholders in accordance with applicable Canadian securities laws.

The Offer has been further extended to allow additional time for satisfaction of all conditions of the Offer, including receipt of Investment Canada Act approval. As previously disclosed, on February 7, 2013, First Quantum received an advance ruling certificate in respect of the Offer from the Commissioner of Competition under Canada's Competition Act, satisfying a condition of the Offer relating to Competition Act approval. On February 21, 2013, First Quantum also received notification from the Turkish Competition Authority that its Competition Board had authorized the transactions contemplated by the Offer. On February 25, 2013, First Quantum received written notification from the Deputy Director of Investments of Industry Canada that the period for the Minister's consideration of First Quantum's application for review of the Offer under the Investment Canada Act was being extended for a further period of 30 days. A decision by the Minister to approve the Offer may be made at any time during the extended 30-day period.

First Quantum also confirmed today, in response to Inmet's press release of February 26, 2013, that, on February 17, 2013, First Quantum and Inmet entered into Non-Disclosure Agreements providing for the exchange of confidential business information. Since then, each of First Quantum and Inmet has been conducting a due diligence review of the other's business. The terms of the Non-Disclosure Agreements prevent First Quantum from disclosing details regarding the results of its due diligence review.

On February 25, 2013, First Quantum re-confirmed to the Board of Directors of Inmet its Offer to acquire all of the outstanding Inmet common shares for consideration per share of, at the election of each holder of Inmet shares: (i) C$72.00 in cash; or (ii) 3.2967 common shares of First Quantum; or (iii) C$36.00 in cash and 1.6484 common shares of First Quantum, subject, in each case, to pro ration as set forth in the Offer.

Commenting upon the extension and on the grant by Inmet of due diligence access to First Quantum, Mr. Philip Pascall, CEO and Chairman of First Quantum, said:

"Approval under the Investment Canada Act, which is a condition of our Offer, remains outstanding. We are hopeful that the approval will be received shortly.