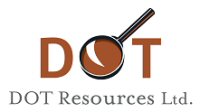 CALGARY, ALBERTA -- (Marketwire) -- 02/27/13 -- DOT Resources Ltd. (TSX VENTURE: DOT) ("DOT" or the "Corporation") is pleased to announce the initiation of a three week geophysical evaluation of the Corporation's Merritt properties in BC. This geophysical evaluation will be completed with new technology referred to as ELF, which is an extremely low frequency ground equivalent survey to Geotech's airborne ZTEM system. The ELF system is considered an excellent tool for evaluating potential mineralization, alteration and structure related to porphyry type deposits and has the ability to look down to a depth of 1.5 kilometres ("kms"). The geophysical program is designed to evaluate encouraging known areas of mineralization with the intent to identify drill targets for later in 2013.

DOT has acquired four (4) new properties to increase the Corporation's land holdings in the Merritt, BC area to 26,650 acres (including the wholly owned Dot Property). The four properties (Peacock, Cube, Copper Belle and Promotory Hills) are all Fe-Cu or Cu+/- Mo, Au, Ag occurrences where historic mineralization, up to 7.5% Cu values, have been returned (Copper Belle). These properties are considered excellent additions to DOT's holdings in the Merritt area (see Figure 1).

PEACOCK ROCK SAMPLING RESULTS FROM 2012

The Peacock rock sampling program was conducted in October 2012 on the 3,373 acre property that is located approximately 19 kms northeast of the town of Merritt, BC. The objective of the survey was to confirm historical assay information and use these locations to orient the ELF survey. The showings on Peacock are contained within highly mineralized quartz veins with over 40% of the samples returning values greater than 1% Cu and up to 4.562% Cu (see summary Table 1 below and Figure 2).


----------------------------------------------------------------------------                          Cu         Cu              Mo        Mo    Au   Ag Sample Number           ppm   Re-assay             ppm  Re-assay   ppb  ppm---------------------------------------------------------------------------- 2              greater than                      10,000      1.334%             Tr             42   6.4---------------------------------------------------------------------------- 3              greater than                      10,000      1.838%             Tr            223  20.3---------------------------------------------------------------------------- 7              greater than                      10,000      2.228%             Tr            355  20.1---------------------------------------------------------------------------- 10             greater than                      10,000      0.908%             Tr            377   3.1---------------------------------------------------------------------------- 11             greater than                      10,000      0.990%             Tr             10   5.5---------------------------------------------------------------------------- 13             greater than               greater than                      10,000      1.264%          2,000    0.290%   92   3.9---------------------------------------------------------------------------- 14                                        greater than                        5190      0.503%          2,000    0.564%   46   1.2---------------------------------------------------------------------------- 18             greater than                      10,000      1.052%             Tr            129  10.7---------------------------------------------------------------------------- 27             greater than                      10,000      1.005%             Tr             11   3.6---------------------------------------------------------------------------- 29             greater than                      10,000      1.332%             Tr            377   9.3---------------------------------------------------------------------------- 30             greater than                      10,000      2.306%             Tr            633  17.9---------------------------------------------------------------------------- 35             greater than                      10,000      2.554%             Tr            892  34.8---------------------------------------------------------------------------- 36             greater than                      10,000      2.789%             Tr            711  37.8---------------------------------------------------------------------------- 37             greater than                      10,000      2.962%             Tr            869  47.3---------------------------------------------------------------------------- 38             greater than                      10,000      3.107%             Tr            989  44.0---------------------------------------------------------------------------- 39             greater than                      10,000      4.562%             Tr           1076  64.9---------------------------------------------------------------------------- 40             greater than                      10,000      3.388%             Tr            942  49.9----------------------------------------------------------------------------Table 1. Peacock Assays - 2012