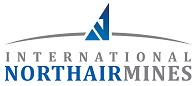 VANCOUVER, BRITISH COLUMBIA -- (Marketwire) -- 02/26/13 -- International Northair Mines Ltd. (TSX VENTURE: INM) (the "Company" or "Northair") is pleased to announce the results of the maiden NI 43-101 Resource Estimate completed by Arseneau Consulting Services (ACS) in conjunction with JDS Energy and Mining Inc. (JDS) for its La Cigarra silver project located in north central Mexico.

The resource estimate was calculated based on results from 122 of 154 holes totaling 25,576 metres drilled along the open ended La Cigarra mineralized system which has a drilled strike length of at least three (3) kilometres. The 122 holes included in this initial resource estimate were positioned within a potentially surface minable mineralized area comprised of the San Gregorio and Las Carolinas mineralized zones, which combined form a total strike length of 2.1 kilometres within the known three (3) kilometres. The resource estimate was constrained by a Whittle™ pit shell at an economic cutoff grade of 30 g/t of silver. Highlights of the mineral resource estimate are as follows:


--  Measured and Indicted mineral resources of 50,494,000 ounces of silver    within 20,755,700 tonnes at an average grade of 76 g/t silver;--  Inferred mineral resource of 3,515,900 ounces silver within 1,780,000    tonnes at an average grade of 61 g/t silver;--  Higher than average grade zones outcrop, which could improve the assumed    project economics in the early years;--  Significant by-products include 40,100 ounces of gold in the measured    and indicated categories as well as appreciable lead and zinc values, as    provided in mineral resource estimate tables noted in this press    release.
Northair believes that excellent potential to expand the resource exists through exploration and definition drilling along the La Cigarra mineralized system.
"We are very pleased by the results of our initial resource estimate for La Cigarra, particularly the average silver grade," said Fred Hewett, President & CEO of Northair. "Since our first 2010 drill program, the Company has advanced the La Cigarra Project from initial discovery to a +50 million silver resource at an exploration cost of approximately $0.15 per ounce silver. During 2013, Northair plans to continue the aggressive pace of its exploration program to expand the resource and explore other identified exploration targets. Additional studies to establish project economics will continue over the foreseeable future."
Northair will host a conference call and live audio webcast on February 26, 2013 at 8:00 am Pacific Time (11:00 am Eastern Time) to provide a short overview on Northair's La Cigarra silver project and the importance of this maiden resource estimate coupled with the significant exploration potential. Conference call and live audio webcast details are located at the end of this release and on the Northair website below:
www.internationalnorthair.com
Resource Expansion Potential
Considerable resource expansion potential exists within the resource area, which remains open at depth and along strike in both directions. This potential is in part supported by soil sampling over the six (6) kilometre long La Cigarra mineralized system, with La Borracha to the north (where nine (9) drill holes have intercepted significant silver mineralization) and the Las Venadas Zone to the south (which has returned surface silver values of up to 233 g/t silver over 2.5 metres). The defined target zone at Las Venadas covers an area of approximately 230 metres by 90 metres. In addition, numerous other target areas within the remaining 32,000 hectare land package could host significant mineralization as evidenced by a cluster of historic workings and mineralized grab samples obtained from preliminary prospecting.