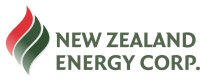 VANCOUVER, BRITISH COLUMBIA -- (Marketwire) -- 02/25/13 -- New Zealand Energy Corp. ("NZEC" or the "Company") (TSX VENTURE: NZ)(OTCQX: NZERF) today provided an update on the Company's exploration and production activities in the Taranaki Basin of New Zealand's North Island.


      NZEC will host a conference call / webcast at 7am PST (10am EST)                  North American toll-free: 1-800-319-4610               International / Vancouver callers: 604-638-5340                  Webcast: http://www.newzealandenergy.com/
Message from the Chief Executive Officer
I would like to take the opportunity to update our shareholders on NZEC's current exploration, production and acquisition activities, successes and challenges to date, and plans for the coming year.
NZEC has drilled ten wells on its Eltham Permit in the Taranaki Basin, with five oil discoveries and results pending from two Mt. Messenger wells. NZEC is currently producing approximately 335 barrels of oil per day ("bbl/d"). While pending wells could result in additional production and cash flow, the Company's assessment is that flow rates from the new wells will not be adequate to achieve anticipated targets and NZEC's previous production guidance is therefore withdrawn.
NZEC's current net working capital position (including deposits) is estimated at CAD$16.8 million (unaudited). Ongoing overhead, operations and acquisitions may be funded by a combination of cash flow generated through production, credit facilities, joint ventures, commercial arrangements or other financing alternatives.
The Company's objective is to increase near-term production and cash flow while reducing exploration expenses. To achieve this objective, NZEC is delaying the remaining two wells in its Eltham/Alton drill program to focus on commercial opportunities in the pending acquisition of assets from Origin Energy Resources NZ (TAWN) Limited ("Origin"). While this decision in no way diminishes the Company's view of the prospectivity of the Eltham and Alton permits, NZEC intends to focus in the near-term on lower-cost opportunities that are close to infrastructure. The acquisition from Origin includes new petroleum licenses that are central to a network of oil and gas gathering pipelines and the full-cycle Waihapa Production Station. The Company is working diligently to conclude this complex transaction and expects closing to occur in Q2-2013.
Upon closing, NZEC plans to reactivate six wells in the Tikorangi formation using an established gas lift system, and has also determined that six previously drilled wells on the petroleum licenses have uphole completion potential. Recompletion of these wells would be significantly less expensive and faster than drilling new wells, and successful discoveries could be quickly tied in to the Waihapa Production Station using existing oil and gas gathering pipelines. Both the reactivations and uphole completions could bring near-term, low-cost production and cash flow to the Company.
NZEC's technical team has also identified five high-priority Mt. Messenger targets in the southwest corner of the petroleum licenses. NZEC has completed permitting for a new site called Waipapa (Oru Rd) and will shortly begin construction of the drill pad to ensure that the Company can move quickly to access these targets once the acquisition has closed. Longer-term exploration plans on the petroleum licenses include accessing Mt. Messenger targets from existing drill pads, many of which have gathering pipelines in place, that offer lower-cost exploration potential and can be tied-in to the Waihapa Production Station on an expedited basis. NZEC is advancing a number of new commercial opportunities to use the Waihapa Production Station to its full potential and maximize facility revenues, while ensuring that NZEC's gas and associated natural gas liquids production can be efficiently delivered to market.