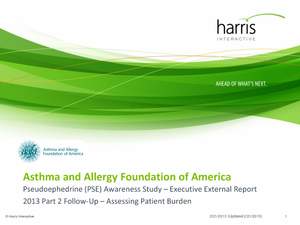 Asthma and Allergy Foundation Poll Finds Patients Already Have Many Healthcare Challenges



WASHINGTON, DC -- (Marketwire) -- 02/25/13 -- The Asthma and Allergy Foundation of America (AAFA) is out with a new poll re-confirming what AAFA already learned from a previous study and from 60 years of continual nonprofit service to the asthma and allergy community: patients nationwide strongly oppose proposed laws to change popular over-the-counter (OTC) medications to prescription-only (Rx) status.

For downloadable broadcast quality video and other press materials visit http://www.newsinfusion.com/events/asthma-and-allergy-foundation

The new poll was conducted online by Harris Interactive in January 2013, among over 2,000 U.S. adults who personally suffered from asthma, allergies, cold, cough or flu in the preceding 12 months and who purchased non-prescription medications for at least one condition during that time.

More than 45 million Americans have nasal allergies, more than 22 million have asthma and over 10 million have both. Respiratory diseases take a devastating toll on public health, costing billions of dollars in direct medical expenses, reducing quality of life, lowering workplace and school performance, and can even be life-threatening to high-risk populations, such as asthma patients.

That's why so many families rely on quick and affordable access to effective FDA-approved OTC and Rx medications for controlling symptoms of these diseases. "It's easy for AAFA to be on the patients' side of this issue," says Charlotte Collins, AAFA's Vice President of Policy & Programs. "The data shows us that patients already deal with the burdens of these chronic diseases, so adding restrictions on top of the burdens they already face would be a real problem. And they feel the best way to stop criminals involved in the illegal meth trade is through law enforcement and other proven methods, not by doctors' prescriptions."

"This is just common sense," Collins continued. "Meth crimes are serious, with sometimes tragic outcomes, but doctors are not substitutes for police, and patients should not be penalized for crimes by meth makers."

Creating More Burdens for Patients Is the Wrong Approach

Over 18 million households in the U.S. depend on OTC medicines containing pseudoephedrine (PSE) to relieve their common symptoms, but direct and immediate access to these medications for patients continues to be threatened by some states looking at requiring prescriptions as a way to stop illegal meth makers. Now, patients are speaking up to let policy makers know that this is not the right solution. In recent years, policymakers in a number of states have proposed Rx-only laws that were eventually defeated in large part because patients and families are overwhelmingly opposed them.