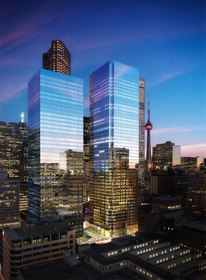 A rendering of Bay Adelaide East (at left) with the existing Bay Adelaide West



TORONTO -- (Marketwire) -- 02/25/13 -- Brookfield Office Properties Inc. (TSX: BPO) (NYSE: BPO) today announced its second signed lease for the East tower of Bay Adelaide Centre in downtown Toronto, which recently commenced construction. Borden Ladner Gervais LLP (BLG), a leading, full-service national law firm, will be occupying 165,000 square feet in the building which is on target to be completed in late 2015.

Last June, professional services firm Deloitte kicked off the development by leasing 420,000 square feet -- approximately 43% of the building -- as the anchor tenant. With the addition of BLG, Canada's largest law firm, the building is now 60% pre-leased.

"Bay Adelaide Centre has become the newest premier professional precinct in downtown Toronto. We are gratified to have two such highly regarded organizations as BLG and Deloitte lead the tenancy in the East tower," said Jan Sucharda, president and chief executive officer of Brookfield Office Properties' Canadian Commercial Operations.

"This is an exciting new venture for the Toronto operations of BLG," said Frank Callaghan, Toronto regional managing partner. "The new state of the art premises will allow BLG to create a modern working environment that reflects the latest best practices for law firm offices. The Bay Adelaide Centre will allow us to create a unique and innovative workplace that fosters excellence in collaboration, teamwork and is responsive to the needs of our clients. We are delighted to be taking up residence in a premier office tower that delivers the highest standard in building construction."

Bay Adelaide East, located on Adelaide Street West between Bay and Yonge Streets, adjacent to the Bay Adelaide West tower, will be a 44-storey, 980,000-square-foot office tower with best-in-class operational, environmental and life-safety systems and will achieve the prestigious LEED (Leadership in Energy and Environmental Design) Platinum distinction upon completion. Once completed, the East and West towers will represent the forefront of premier office product in Toronto's financial core, encompassing the full Adelaide Street block between Bay and Yonge Streets.

The East tower's expected completion date of late 2015 coincides with several large office lease expiries in the financial core and gives these firms a new, premium build alternative in a coveted location. The building will have direct access to subways and the amenities of the PATH underground pedestrian system.

The 51-storey, 1.2-million-square-foot Bay Adelaide West tower, also developed by Brookfield, opened in 2009 and is 95% leased.

In addition to Bay Adelaide East and West, the third and final phase of the development -- Bay Adelaide North -- can accommodate additional new development of approximately 500,000 square feet.