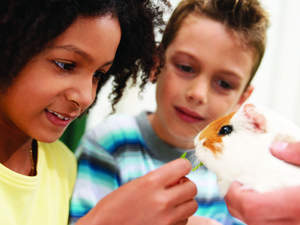 Photo courtesy of Getty Images


MISSION, KS -- (Marketwire) -- 02/21/13 -- (Family Features) It's fun for parents to surprise children with new small pets, like guinea pigs and hamsters. Plus, these small animals are a great first pet for kids and can teach children responsibility. But before adding to the family, it's important to make sure you are bringing home the right pet for your family.

"Small pets are great, playful new pals. And the best way for families to choose a pet and make them part of your home is to consider how the pet is going to fit into your lives," says Dr. Kemba Marshall, veterinarian and pet care expert at PetSmart. "Families should first learn about each pet's unique characteristics to prepare for a change in their daily habits and responsibilities in caring for their new pet."

Online resources, including PetSmart's Small Pet Center, have tips on how to choose a small pet, whether it's a chinchilla, gerbil or hamster, based on children's ages, pet-care experience and daily time requirements for care.

Take some time to learn how to best care for your small pet before you bring it home. Make sure you:

Choose the right habitat: Small pet habitats have varying requirements, and there are must-have supplies and accessories to keep your pet happy and healthy. For example, guinea pigs are easy to tame, affectionate and expressive, and need plenty of floor space to play. Hamsters, which are known for being playful and active, need a multilevel habitat large enough to include an exercise wheel and tunnels.