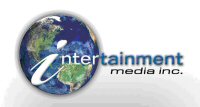 TORONTO, CANADA -- (Marketwire) -- 02/21/13 -- Yappn (a subsidiary of Intertainment Media Inc. (TSX VENTURE: INT)(OTCQX: ITMTF)(FRANKFURT: I4T) (www.yappn.com)), the revolutionary online multi-lingual chat platform set to launch later this Spring, has announced that in an effort to encourage the viral growth of its platform, it has introduced a trophy room that will be available to all users upon the site's official launch. This new gamification strategy will create an engaged online community and encourage Yappn users to participate in discussions and take part in exclusive events with celebrities, artists and brands through other major social network platforms for the chance to earn achievement badges.

The trophy room will showcase all of a user's badges and achievements resulting in a compelling and meaningful experience for all Yappn members. The first achievement being offered to members is the Pioneer Award. To receive this badge, users must simply sign up for the beta test program on the official Yappn website and upon the full site launch, the award will be visible inside each beta tester's trophy room.

Yappn CEO David Lucatch believes that there is a huge potential benefit from tapping into the growing gamification in consumer's lives; according to Silicon Angle, there is a 50% increase in conversation for businesses that opt for gamification in their programs. "This gamification strategy is a testament to our commitment to growing the Yappn brand. We expect the trophy room to greatly increase not only our user numbers but also the global visibility of our platform," he said.

Currently in the beta testing stage, the full Yappn platform along with the user trophy room is expected to fully launch later this Spring. Consumers can sign up for the Yappn beta program and have the ability to earn their first achievement badge at www.yappn.com.

Yappn has been working in Los Angeles and New York with several leading entertainment and broadcast firms to enable their properties to be socially engaged globally. As a result, Yappn has been approached by a US publicly listed entity to discuss potential opportunities for acquisition of its platform and technology. Yappn is currently reviewing the value proposition of this opportunity.

The Yappn platform takes full advantage of Ortsbo's (www.ortsbo.com) real-time language services platform. Available in almost 70 languages, Ortsbo was originally launched as a 1 to 1 chat platform reaching over 210 Million unique monthly users. In September 2012, Intertainment began discontinuing support of the Ortsbo chat program in favor of burgeoning commercial language services opportunities. Ortsbo continues to accelerate commercial business contracts and for more information on Ortsbo, please visit www.ortsbo.com. Yappn has been working with the original Ortsbo team to build on that early success to create a larger, more robust and consumer focused social media platform.