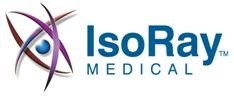 RICHLAND, WA -- (Marketwire) -- 02/21/13 -- IsoRay, Inc. (http://www.isoray.com/) (NYSE MKT: ISR), a medical technology company and innovator in seed brachytherapy and medical radioisotope applications, today announced the first international implementation of IsoRay's exclusive GliaSite Radiation Therapy System (balloon catheter) at the University Hospital of Rostock, Germany.

Professor Juergen Piek, Chairman of the Neurosurgical Department, placed the catheters following the brain tumor resection procedure. Dr. Monique Sakretz was the nuclear doctor responsible for the liquid I-125 balloon after load of radioactive material.

Brain cancer presents unique treatment challenges. Brain tumors are very often difficult to remove completely because of the need to avoid damaging the brain. Further, tumors tend to spread to healthy parts of the brain. Typically, surgeons remove as much as they can of the tumor and then treat the areas surrounding where the tumor was removed with radiation therapy. They sometimes use chemotherapy as well. However, most cancerous brain tumors reoccur shortly following removal, and the cancer tends to return near the site of the original tumor. Brain cancer is one of the fastest growing cancers and recurrence often proves fatal.

A metastatic, or secondary, brain tumor is one that begins as cancer in another part of the body. Some of the cancer cells may be carried to the brain by the blood or lymphatic fluid, or may spread from adjacent tissue.
Metastatic brain tumors are often referred to as lesions or brain metastases. Metastatic brain tumors are the most common brain tumors.

The GliaSite system offers a number of advantages in glioblastoma and metastatic brain cancer treatment. It places a specified high dose of a liquid radiation source in the areas most likely to contain cancer after brain tumor removal and is less likely to damage healthy brain tissue than other treatments. It helps reduce the ability for the tumor to reoccur, which in turn impacts patient longevity and quality of life.

IsoRay CEO Dwight Babcock says this marks a milestone in launching IsoRay's products into the international marketplace, supporting management's goal to increase revenues and shareholder value while improving the quality of life for the patient. "Our hope is to promote awareness that our product line, including both Cesium-131 brachytherapy seeds and GliaSite RTS utilizing liquid isotopes, can take on difficult cancers throughout the body. We are advancing our ultimate domestic and international goal of making GliaSite RTS in particular for brain cancer and in general Cesium-131 a standard of care for the treatment of multiple cancers. We are extremely pleased with the exceptional results a growing number of thought leaders and major medical centers are experiencing throughout the U.S. and internationally as Cesium-131 receives more widespread adoption. We believe Cesium-131's ability to fight cancer and improve the quality of life for the men, women, and children who are battling these devastating cancers distinguishes it from other treatment options."