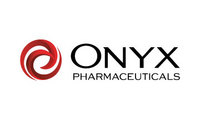 SOUTH SAN FRANCISCO, CA -- (Marketwire) -- 02/20/13 -- Onyx Pharmaceuticals, Inc. (NASDAQ: ONXX) announced today that Leukemia has published results from the Phase 2 trial known as PX-171-005 (NCT00721734), an open-label, multicenter clinical trial evaluating Kyprolis® (carfilzomib) for Injection in patients with relapsed and refractory multiple myeloma and varying degrees of renal insufficiency. The article is titled, "Carfilzomib in Multiple Myeloma Patients With Renal Impairment: Pharmacokinetics and Safety." The lead author was Dr. Ashraf Badros, Professor of Medicine at the University of Maryland Greenebaum Cancer Center.

"Renal impairment is a frequent and severe complication in patients with multiple myeloma, and presents challenges in the utilization of some anti-myeloma therapies," said Dr. Badros. "This prospective study provides important data for carfilzomib use across the spectrum of renal impairment, from patients presenting with minimal impairment to those on chronic hemodialysis."

About the PX-171-005 Study
Fifty patients with relapsed, refractory and/or progressive multiple myeloma who had received at least two prior therapeutic regimens were enrolled in the open-label, single-agent, multicenter Phase 2 trial, and 47 were evaluable for response. The authors reported on the primary and secondary endpoints of the trial. The primary endpoint was the influence of renal impairment on the pharmacokinetics (PK) of carfilzomib. Statistical comparisons showed no differences between renal function status and the dose-adjusted PK parameters including apparent plasma clearance, dose-normalized AUCinf (total exposure), and the dose-normalized Cmax. Secondary outcomes included safety, tolerability, pharmacodynamic (PDn) measures, and efficacy. The most common treatment-emergent adverse events (AEs) reported in this study were fatigue (56%) and anemia (50%), and the most common Grade 3/4 AEs were anemia (28%), thrombocytopenia (20%). The most common AEs of any grade possibly related to carfilzomib were fatigue (56%), anemia (50%), nausea (36%), and diarrhea (36%).

Data from the trial were initially presented at the 2010 American Society of Clinical Oncology Annual Meeting and at subsequent international scientific meetings. The trial was conducted at five sites in the United States. An electronic version of the article can be accessed at http://www.nature.com/leu/journal/vaop/naam/pdf/leu201329a.pdf.

Important Indication and Safety Information for Kyprolis® (carfilzomib) for Injection
On July 20, 2012, the U.S. Food and Drug Administration (FDA) granted accelerated approval of Kyprolis® (carfilzomib) for Injection for the treatment of patients with multiple myeloma who have received at least two prior therapies including bortezomib and an immunomodulatory agent (IMiD), and have demonstrated disease progression on or within 60 days of completion of the last therapy. Approval was based on response rate. Clinical benefit, such as improvement in survival or symptoms, has not been verified.