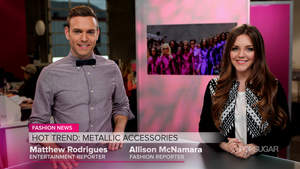 SAN FRANCISCO, CA and LOS ANGELES, CA and NEW YORK, NY -- (Marketwire) -- 02/20/13 -- Today POPSUGAR Inc. announced a new brand and website, POPSUGAR; an enhanced shopping site, POPSUGAR Shopping; and a new daily show, POPSUGAR LIVE!, that together cement the company's leadership in content and commerce for influential tastemakers and shoppers. POPSUGAR is delivering the industry's most comprehensive, digital first destination that combines editorial, video, shopping, and search, all in one place.

Commenting on the news, Founder and CEO Brian Sugar, POPSUGAR Inc., stated, "POPSUGAR is everything women love, all in one place. With the rebrand, we are celebrating our greatest success: becoming the leading online destination where content and commerce connect. Whether you are reading about the latest trends on the runway, tuning in live to the Oscars red carpet, or searching for that 'must-have' item, you'll find it all on POPSUGAR."

The New POPSUGAR: "Everything Women Love, All in One Place"
POPSUGAR has redesigned its website with a new visual identity and product features that place content and commerce center stage. From the color palette to the improved universal navigation of the site, women can more intuitively read, watch, and shop, all in one place. Enhancements and new features include:

•New Homepage: The new POPSUGAR homepage features a carousel of trending content: photo galleries, videos, and also LIVE video content. The new homepage also features three different views: List, Full, and Grid, which will automatically default to your preference, showcasing breaking news and also content that is "most popular" from the various content channels.

•Streamlined Content Channels: The new navigation features dedicated content channels focused on celebrities, fashion, beauty, entertainment, fitness, living, and more. These channels present curated editorial slideshows, videos, and more. Robust algorithms will also recommend relevant stories and videos based on what you are reading and watching.

•POPSUGAR Shopping (formerly known as ShopStyle): POPSUGAR Shopping delivers unparalleled core search capabilities and now also offers curated editorial content and videos. POPSUGAR partners with thousands of leading retailers and fashion brands, including DVF, J.Crew, Macy's, Neiman Marcus, NORDSTROM, and many more. Shoppers can search for millions of products and shop from the best selection of items in fashion, home, kids, and more from around the web, all in one place.

•POPSUGAR Video: POPSUGAR Video has been redesigned to feature a carousel of popular and current videos. Video is also prominently featured on the POPSUGAR homepage.

•New User Profiles: The new POPSUGAR allows you to create your own user profile, create "lists" of items you love, bookmark your "favorite" items, shop, and share your looks with the community.

•New POPSUGAR Shopping Mobile App: POPSUGAR Shopping is also available on mobile devices including iPhone and iPad in addition to the enhanced POPSUGAR mobile app.