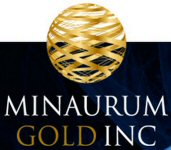 VANCOUVER, BRITISH COLUMBIA -- (Marketwire) -- 02/19/13 -- Minaurum Gold Inc. (TSX VENTURE: MGG) ("Minaurum") is pleased to announce the identification of two new targets at its 100%-controlled El Porfido gold-skarn/porphyry project. The 4,666-hectare project lies within 90 kilometers of the prolific Guerrero Gold Belt in the southwestern part of the Mexican state of Puebla. The property was staked by David M. Jones, who was responsible for the discovery of the Los Filos mine in the Guerrero Gold Belt, presently operated by Goldcorp.

The targets are based on geologic mapping and sampling and anomalies identified by an airborne VTEM/magnetic survey. The first target centres on a 2-km diameter altered porphyry stock that shows iron-skarn alteration of the limestone and gypsum wall rocks around its contacts. The second target is a WNW-ESE trending zone of stockwork quartz veining and skarn alteration in limestone lying 4.5 km south of the stock. The southern zone has an overall strike length of 7 kilometers. Both targets display geochemical anomalies associated with Guerrero Gold Belt pathfinder elements, and associated magnetic anomalies.

"We are very pleased with the size and scope of the targets discovered by our geological team. The geological similarities to the nearby major Guerrero Gold Belt deposits are very encouraging," stated Darrell Rader, President and CEO of Minaurum. "Bringing these targets forward to drill-readiness is one of the major priorities of our 2013 Exploration Program."

The Porfido porphyry granite stock intrudes limestones of the Morelos Formation, the same host rocks as the Guerrero Gold Belt, as well as tertiary gypsum of the Cuayuca Formation. Hematite skarn is extensively developed in these wall rocks at El Porfido. Minaurum's airborne VTEM/magnetic data shows a strong northeast-southwest-trending magnetic high extending several hundred meters beyond the stock's exposed contact. A lower-amplitude magnetic anomaly, suggesting a magnetite-bearing intrusion, extends from a short distance south of the stock outcrops for more than 5 km to the south-southeast and intersecting the second target zone. These magnetic anomalies are similar to those associated with several of the major Guerrero Gold Belt gold deposits.

Geological mapping and sampling has discovered several areas of stockwork quartz veining and skarn alteration with anomalous pathfinder geochemical results. Minaurum has collected 134 stream-sediment samples, 219 rock samples, and 67 soil samples within and around the target areas and many are strongly anomalous in gold, silver, bismuth, arsenic, antimony, copper, molybdenum, zinc and barium; the principal pathfinder elements for Guerrero Gold Belt deposits.

Stream-sediment samples show strong anomalies as high as 96 parts per billion (ppb) gold and 4 parts per million (ppm) silver. Prior rock sampling reported values as high as 1.82 ppm gold from quartz-pyrite-tourmaline breccia on the stock's margin. Recent detailed sampling by Minaurum across the altered porphyry stock shows consistently anomalous gold values (10-100's ppb) including up to 301 ppb.