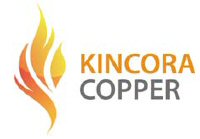 VANCOUVER, BRITISH COLUMBIA -- (Marketwire) -- 02/19/13 -- Kincora Copper Limited (the "Company", "Kincora") (TSX VENTURE: KCC) announces updated exploration results, a review of the 2012 field season activities for the Bronze Fox project and provides a corporate update.

Exploration activities in late 2012 focused on determining the potential for higher grade copper-gold porphyry mineralisation at depth and near surface oxides at the West Kasulu prospect and drilling two previously untested geophysics anomalies at Bronze Fox. These activities looked to consolidate promising drilling results earlier in year and recent 3D Induced Polarisation ('IP') analysis.

The results of the 2012 exploration programme continue to demonstrate that the Bronze Fox project hosts a large area of lower grade copper and gold mineralisation, open at depth and in every direction with high-grade intersections and new targets continuing to be generated. Following further zones of broad mineralisation being encountered and drilling at one of the aforementioned geophysics targets extending the West Kasulu prospect's potential strike significantly, the Company is investigating the potential use of follow up geophysics and deeper IP analysis at its advanced exploration target zones to assist in identifying additional targets.

Commenting on today's announcement, John Rickus, President and CEO of Kincora, said:

"Our review of the 2012 exploration season reiterates our belief that Kincora's wholly owned and flagship Bronze Fox project is prospective for both bulk lower grade and deeper higher grade copper mineralisation. Following the successful C$4.6 million private placement late last year drilling activities increased from two to three rigs and ran until the week before Christmas. All core work programmes were completed including: step out drilling around Hole F62 at West Kasulu; advancing key infill drilling and initial metallurgical analysis for a potential oxide development project, also intersecting further shallow porphyry mineralisation (eg 8 metres at almost 1% CuEq); and, drilling a number of untested anomaly targets.

Large zones of lower grade mineralisation, both oxide material at surface and sulphides at depth, were returned. While not intersecting economic mineralisation this drilling, and that of two previously untested anomalies, warrant follow up activities and illustrates the Company's systematically exploration of its large regional landholding, the majority of which has experienced limited previous exploration.

The recent private placement provides Kincora a number of options and flexibility to resume optimal exploration activities in 2013. The Company continues to monitor yet unsubstantiated local Mongolian media speculation regarding two licenses held by Kincora, the proposed draft Minerals Law, up coming Mongolian Presidential election, and the global markets for exploration juniors. While impacted by these aforementioned factors, we continue to access various other commercial opportunities and discussions with potential strategic investors regarding technical and financial synergies."