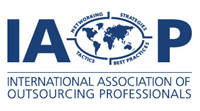 PHOENIX, AZ -- (Marketwire) -- 02/19/13 -- The International Association of Outsourcing Professionals® (IAOP®) today honored its latest inductees into the prestigious Outsourcing Hall of Fame. Dana Deasy, Group Chief Information Officer at BP; John K. Halvey, Vice President and General Counsel at NYSE Euronext and former Partner and Head of the Strategic Sourcing and Technology Transactions Group at Milbank, Tweed, Hadley & McCloy; and Morton H. Meyerson, Former President and Vice Chair EDS; Chair, President & CEO Perot Systems were honored during an awards luncheon at The 2013 Outsourcing World Summit in Phoenix, Arizona.

"The Outsourcing Hall of Fame exemplifies the positive impact outsourcing has on business and society," said IAOP CEO Debi Hamill "We are proud to induct the newest members into this hall and recognize them for their outstanding work and many contributions to the industry and world around us."

Dana Deasy has more than 30 years experience gained from leading and delivering large scale IT strategies and projects. He joined BP in October 2007, taking responsibility for global IT strategy and capability, supporting all the firm's operations, including its Refining & Marketing and Exploration & Production businesses, as well as its commodity trading operation. As part of BP's current change agenda, he is transforming the IT organization to maximize the competitive edge and value that information technology provides to the firm. Outside of IT, he holds group-wide responsibility for Indirect Procurement and Group Real Estate.

"At BP, I have been focused on creating an ecosystem with our key suppliers to achieve common business outcomes that maximize value to BP," said Mr. Deasy. "This award is a testament to that focus and the success in creating effective supplier partnerships."

John Halvey is a Group Executive Vice President and the General Counsel of NYSE Euronext and serves on its Management Committee. At NYSE Euronext, Mr. Halvey is responsible for the global legal department and global government and regulatory affairs. Previously, he was a corporate partner with the international law firm of Milbank, Tweed, Hadley & McCloy, LLP from 1994 to 1999 and from 2001 to 2008. Mr. Halvey practiced in all areas of corporate, technology and intellectual property law, with particular emphasis on information technology and business process related transactions. From 1999 to 2001, Mr. Halvey was Executive Vice President of Safeguard Scientifics, Inc.

"I am honored to receive this recognition from IAOP, and to be associated with the other distinguished inductees," said Mr. Halvey. "The Outsourcing Hall of Fame recognizes individual professionals who are responsible for furthering the successful growth and development of the industry and for demonstrating the key role the industry plays in the global economic infrastructure. I am proud to have been a part of this still unfolding legacy of success."