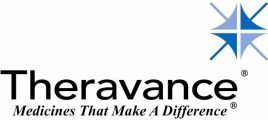 LONDON and SOUTH SAN FRANCISCO, CA -- (Marketwire) -- 02/19/13 -- GlaxoSmithKline plc (LSE: GSK) and Theravance, Inc. (NASDAQ: THRX) today announced that the New Drug Application (NDA) for the investigational once-daily LAMA/LABA combination medicine, UMEC/VI, for patients with chronic obstructive pulmonary disease (COPD), has been accepted by the U.S. Food and Drug Administration (FDA) indicating that the application is sufficiently complete to permit a substantive review. The Prescription Drug User Fee Act (PDUFA) goal date has also been confirmed as 18 December 2013.

In December 2012 and January 2013, GSK and Theravance announced the submission by GSK of regulatory applications in the United States and the European Union, respectively, for UMEC/VI for patients with COPD. The Marketing Authorisation Application (MAA) for UMEC/VI has been validated for assessment by the European Medicines Agency (EMA).

UMEC/VI, with proposed brand name ANORO™, is a combination of two investigational bronchodilator molecules - GSK573719 or umeclidinium bromide (UMEC), a long-acting muscarinic antagonist (LAMA) and vilanterol (VI), a long-acting beta2 agonist (LABA), administered using the ELLIPTA™ inhaler.

Future Regulatory Submissions:
Regulatory submissions for UMEC/VI are planned in other countries during the course of 2013. In addition, GSK intends to commence global regulatory submissions for UMEC monotherapy, administered using the ELLIPTA™ inhaler, for COPD patients later this year.

Other Respiratory Development Programmes:
UMEC/VI is one of several late-stage assets in the GSK respiratory development portfolio, which includes fluticasone furoate/vilanterol (FF/VI, with proposed brand names RELVAR™ and BREO™), VI monotherapy and MABA (GSK961081), developed in collaboration with Theravance, as well as GSK's investigational medicines FF monotherapy, UMEC monotherapy and anti-IL5 MAb (mepolizumab). These investigational medicines are not currently approved anywhere in the world.

ANORO™, RELVAR™, BREO™ and ELLIPTA™ are trademarks of the GlaxoSmithKline group of companies. The use of these brand names is not approved by any regulatory authorities.

GlaxoSmithKline - one of the world's leading research-based pharmaceutical and healthcare companies - is committed to improving the quality of human life by enabling people to do more, feel better and live longer. For further information please visit www.gsk.com.

Theravance - is a biopharmaceutical company with a pipeline of internally discovered product candidates and strategic collaborations with pharmaceutical companies. Theravance is focused on the discovery, development and commercialization of small molecule medicines across a number of therapeutic areas including respiratory disease, bacterial infections, and central nervous system (CNS)/pain. Theravance's key programs include: RELVAR™ or BREO™ (FF/VI), ANORO™ (UMEC/VI) and MABA (Bifunctional Muscarinic Antagonist-Beta2 Agonist), each partnered with GlaxoSmithKline plc, and its oral Peripheral Mu Opioid Receptor Antagonist program. By leveraging its proprietary insight of multivalency to drug discovery, Theravance is pursuing a best-in-class strategy designed to discover superior medicines in areas of significant unmet medical need. For more information, please visit Theravance's web site at www.theravance.com.