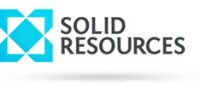 VANCOUVER, BRITISH COLUMBIA -- (Marketwire) -- 02/15/13 -- Solid Resources Ltd. ("Solid" or the "Company") (TSX VENTURE: SRW)(OTCQX: SLDRF)(FRANKFURT: YRS) is pleased to report on the historical data regarding the Cehegin iron ore concessions located the province of Murcia, south eastern Spain.

On October 22, 2012, the Company announced that its 100% wholly owned subsidiary, Solid Mines Espana, S.A.U.("SME") had entered into a binding option agreement pursuant to which it acquired the option to purchase 100% of the sixty-two (62) iron ore concessions and metallic mining licenses, covering an area of 1,030 hectares.

The concessions were formally owned by the Spanish ironworks company, Altos Hornos de Vizcaya, ("A.H.V.") which was the largest industrial company in Spain for much of the twentieth century. In 1975, all 62 concessions were grouped together into one single subsidiary of Altos Hornos de Vizcaya called Agrupacion Minera, SA., who exploited one of the open pit mines - Mina Maria, for its own needs until 1989.

The 62 separate concessions, which were mined for iron ore during the 20th century, offer excellent infrastructure, including hydro, water and a railway, approximately 12 km away, connecting at the rail station in the municipality of Calasparra, to the deep sea port of Cartagena, 100 km away.

Production can commence on the existing permitted concessions upon the Company updating the viability and environmental studies to the satisfaction of the local mining and environmental authorities.

The Company has obtained all of the detailed historical mining and exploration data compiled by Altos Hornos de Vizcaya. This historical data includes all of the work carried out during the operational phase from 1960 until 1989, first by the Association of Mines of Cehegin, then by A.H.V. The historical data includes:


--  extensive aerial magnetic surveys--  1,245 boreholes through rotary percussive drilling, totaling 38,043    metres--  recovery of the detritus and testing by Davis Tube.--  23,528 magnetometry stations--  23,697 magnetic concentration tests
The findings of A.H.V. illustrate the existence of various economical sized deposits with grades of 38% to 60% magnetite, with no relevant impurities in the mineral. Only one of the 62 concessions, Mina Maria, was exploited using current methods of operation, which included a concentration plant, which consisted of crushing, grinding and magnetic separation to achieve concentrations of 65% to 70% Fe. The historic records show Mina Maria was mined for approximately 4 million tons of iron ore.
The tables listed below were prepared by Jose Manuel Romera Canto, Ph.D, a Professional Geologist in his capacity as a Qualified Person and is based on the geological and geophysical data and analysis contained in the files issued by AGRUMINSA (Altos Hornos de Vizcaya Group) and aeromagnetic surveys prepared for IGME (Geological Survey of Spain) by CGG (General Geophysical Company) from 1973 until 1988.
Cehegin Iron Ore Resource Estimate----------------------------------------------------------------------------                                 Million                                  Tonnes        Fe %      DTWR %        DT %----------------------------------------------------------------------------Measured                            7.63          39        41.5        64.6----------------------------------------------------------------------------Indicated                           5.93          31        42.1        63.4----------------------------------------------------------------------------Measured & Indicated               13.56        35.5        41.8        64.1----------------------------------------------------------------------------Inferred                           62.50          40        41.7        65.3----------------------------------------------------------------------------