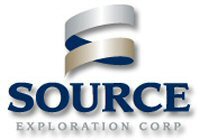 THUNDER BAY, ONTARIO -- (Marketwire) -- 02/14/13 -- SOURCE EXPLORATION CORP. (the "Company" or "Source") (TSX VENTURE: SOP) announces results of ground based magnetic and Induced Polarization ("IP") geophysical surveys undertaken by Geofisica TMC SA de CV at its Las Minas project located in Veracruz State, Mexico.

Magnetic Survey

A high-resolution magnetic survey was carried out over an area covering 13.5 km2 that encompassed several historical mines as well as areas of recent diamond drilling. The survey delineated a large magnetic - high anomaly measuring approximately 1,000 metres by 750 metres located next to the underground workings of the historical San Jose de Oro gold mine.

High gold values at the Las Minas project are associated with skarn type alteration with high magnetite content. Diamond drill hole LM-11-LM-24, which was drilled in 2011 near the San Jose de Oro mine workings and located within the boundaries of the magnetic high anomaly, intersected 5.14 grams per tonne gold (g/t Au), 8.6 grams per tonne silver (g/t Ag) and 1.46 percent copper (% Cu) over 2.0 metres(i) - see press release August 8, 2011. Recent underground samples of historical mine workings graded up to 4.01 g/t Au, 22.67g/t Ag and 0.15% Cu over 6.0 metres(ii).

The survey also identified two significant anomalies proximal to high-grade mineralization intersected by recent diamond drilling. An anomaly located immediately to the east of diamond drill hole LM-11-SC-45 and the Santa Cruz mine workings covers an area measuring about 1,300 metres by 700 metres. The second anomaly, which is located a further 100 metres to the east, measures approximately 500 metres by 500 metres. Diamond drill hole LM-11-SC-45 graded 15.89 g/t Au, 12.98 g/t Ag and 2.25% Cu over 10.0 metres, including 37.26 g/t Au gold, 25.4 g/t Ag and 4.05% Cu over 4.0 metres(i) - see press release January 26, 2012. The high-grade gold values intersected in hole LM-11-SC-45 were associated with a magnetite content of approximately 80 percent.

Brian Robertson, President and CEO, said, "These impressive geophysical anomalies outlined by the magnetic and IP surveys clearly establish that the high-grade mineralization identified by earlier diamond drill programs and sampling of historical workings may be much more extensive. The results provide high priority targets for future drilling programs."

To view the "Image 1 Las Minas Magnetic Anomalies - Total Field Reduced to Pole" figure, please visit the following link: http://media3.marketwire.com/docs/853132.pdf

Induced Polarization Test Survey

An Induced Polarization ("IP") test survey consisting of three lines spaced at intervals of 200 metres and covering 7.50 line-kms was conducted over an area east of the village of Las Minas. The southern part of the area is the site of numerous historical mine workings and recent diamond drilling.

Strong chargeability and resistivity anomalies were defined by the survey, commencing near surface and extending to over 400 metres in depth. Two IP anomalies in the southern part of the surveyed area are associated with magnetic anomalies and located close to historical mine workings. Towards the north, the anomaly is indicative of a geological contact (granodiorite/pyroclastic) over a distance of 800 metres where sulphide mineralization may have been remobilized.