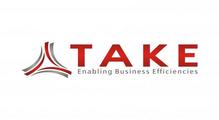 AUSTIN, TX -- (Marketwire) -- 02/14/13 -- TAKE Solutions Ltd. (BSE: 532890) (NSE: TAKE), a leader in the Life Sciences (LS) and Supply Chain Management (SCM) domains, today, announced formation of new Life Sciences business to help Development, Regulatory and Safety functions respond to the increasing demands of the regulators and to enhance business performance.

The new business brings together TAKE's Indian Life Sciences activities, TAKE's US operations, along with CRO Applied Clinical Intelligence (ACI) and Consultancy WCI, both recognised leaders in their respective fields, who became part of the TAKE portfolio in recent years. The team will be 500 strong, with a presence in USA, Europe and UK, India.

Jim Tizzard, appointed CEO of TAKE Life Sciences, states, "We have some well-proven capabilities and we are proud of the results we deliver for our clients. Looking forward, we will work closely with our clients to identify the support and services needed to deliver their business goals, now and into the future. This insight will inform how we invest and grow our business, leveraging and developing existing capabilities, and establishing new capabilities through recruitment and acquisition.

Tizzard, who came to TAKE with the acquisition of WCI, was previously with PWC and CSC, and is well known within Life Sciences circles.

Commenting on this, Srinivasan H.R., Vice-Chairman & Vision Holder, TAKE Solutions, said, "The global market has been somewhat tepid, the last couple of years. It now calls for greater customer intimacy and strengthening of leadership roles from within the organization, and I take great pleasure in announcing the appointment of our new CEO for the life sciences business, Jim Tizzard. Jim has closely worked with the US and European markets and has domain knowledge -- particularly in the Life Sciences sector."

About TAKE Solutions:

TAKE Solutions, Ltd. (BSE: 532890) (NSE: TAKE) is a leading global business technology company with domain expertise in Life Sciences (LS) and Supply Chain Management (SCM). TAKE provides cost-effective and comprehensive solutions for enterprises across diverse sectors including pharmaceuticals, high technology, consumer packaged goods, oil/gas, and automotive.

TAKE's SCM product suite includes distinct technology with embedded IP that spans enterprise mobility, trading partner collaboration, and material tracking. In the LS domain, TAKE offers IP-based software and extensive knowledge-based solutions to enable efficient clinical, regulatory, safety and commercialization processes. TAKE has been recognized as a leader by IDC's MarketScape Worldwide Life Sciences R&D IT Outsourcing for 2011. TAKE's global headquarters is in Chennai, India; its U.S. headquarters is located in Princeton, New Jersey. TAKE has a proven track record as a trusted partner in delivering world-class solutions to more than 400 customers worldwide. For more information, please visit www.takesolutions.com.