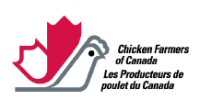 OTTAWA, ONTARIO -- (Marketwire) -- 02/14/13 -- Editors Note: There are 4 photos associated with this Press Release

It's time to take "stock" of what Chicken Farmers of Canada has to offer.

Chicken Farmers of Canada, or CFC, has been developing recipes, taking pictures and conducting nutritional analyses over the past few years and is opening up the vaults to ensure that you have access to great food and great pictures for your publications and websites.

This one-stop-shop of cooking knowledge and great artwork is yours for the taking - all you need to provide is credit where credit is due.

This amazing content library is yours to view at chicken.ca! Feel free to peruse away and then, when you've found the recipes and/or photos you seek, send us a quick e-mail indicating where you'd like to use it and we'll get you the high resolution file(s). The link to order is communications@chicken.ca and responses will be rapid.

Copyright will rest with CFC but there will be no charge for the usage - just a requirement to link back to the chicken.ca website and a note that the content is "courtesy of chicken.ca".

What could be simpler?

Good food, great pictures and all the visual nutrition you need are in our one-stop shop. Looking for health and nutrition information, too? Visit www.chicken.ca today and get in touch with your inner chicken self!

Chicken Farmers of Canada is online at www.chicken.ca.

To view the photos associated with this press release, please visit the following links:

http://media3.marketwire.com/docs/BalsamicHoneyChickenWings_o2.jpghttp://media3.marketwire.com/docs/ChiliOrangeChicken_o.jpg

http://media3.marketwire.com/docs/Groundthighbreast_o.jpg

http://file.marketwire.com/release/JambalayaPasta_o.jpg



Contacts:
Marty Brett
Senior Communications Officer
613-566-5926
mbrett@chicken.ca.