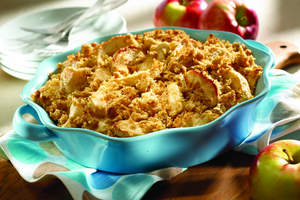 Apple Crisp


MISSION, KS -- (Marketwire) -- 02/14/13 -- (Family Features) Eating for heart health is actually easier -- and more delicious -- than you might think. When you have a good plan and plenty of mouthwatering recipes, you'll enjoy taking care of your heart.

According to the FDA, diets rich in whole grain foods and other plant foods, and low in saturated fat and cholesterol, may help reduce the risk of heart disease. Here are some tips to help you make these kinds of heart-smart choices:

•Choose leaner cuts of meat. You can find plenty of delicious options such as skinless chicken, lean pork and beef. And you can make smart substitutions, too -- use ground turkey instead of ground beef to make meatloaf or burgers even leaner.•Add fruits and veggies to every meal. Strawberries in yogurt, blueberries on a salad, carrots and hummus as a snack, roasted sweet potatoes with dinner -- it's easier than you think to add nutrient-dense produce to your diet. Eat plenty of different colored produce for variety and a wider range of health benefits.•Enjoy more whole grains. Whole grains add carbohydrates for energy, fiber to fill you up, and nutrients important for good health. And, according to a recent national survey, 4 out of 5 doctors recommend Post Shredded Wheat as part of a healthy, low-sodium diet, to maintain a healthy heart, reduce the risk of heart disease, and support healthy blood pressure levels. These recipes are a great start to adding more whole grains -- and they're so good, you might forget they are heart smart.

Get more tips and heart-smart recipes at www.PostShreddedWheat.com.



Apple CrispTotal Time: 65 minutesMakes: 6 servings    5     cups peeled apple slices    1/2   cup firmly packed light brown sugar, divided    1     tablespoon lemon juice    1     tablespoon tapioca    1/4   teaspoon ground cinnamon    1 1/2 cups Post Original Shredded Wheat Spoon Size Cereal, finely          crushed    1/4   cup (1/2 stick) margarine, melted
Preheat oven to 350 degrees F.
Mix apples, 1/4 cup sugar, lemon juice, tapioca and cinnamon in large bowl. Let stand 10 minutes.
To make topping, stir crushed cereal, remaining 1/4 cup sugar and margarine in medium bowl until well blended.
Spread apple mixture in ungreased 1 1/2-quart baking dish. Sprinkle evenly with cereal topping.
Bake for 45 minutes or until topping is browned and apples are tender when pierced with fork.
Savory MeatloafTotal Time: 75 minutesMakes: 12 servings    2     eggs    1     cup milk    2     pounds lean ground beef    3     biscuits Post Original Shredded Wheat Cereal, crushed    1     can (8 ounces) stewed tomatoes, undrained    1     medium onion, chopped    1/4   cup chopped green pepper    2     teaspoons Worcestershire sauce    2     teaspoons salt    1/4   teaspoon ground black pepper