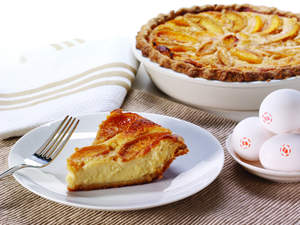 Sweet Peach Custard Pie


MISSION, KS -- (Marketwire) -- 02/14/13 -- (Family Features) Instead of cheating on your diet, start a love affair with foods that taste great and are packed with nutritional benefits.

"Eating healthy lets you look and feel your best, which is why I try to incorporate at least one of what I call 'Foods with Benefits,' such as eggs, into every meal of the day," said Candice Kumai, chef and cookbook author. "Eggland's Best is my choice of eggs because they contain double the amount of omega-3s, twice the amount of vitamin D, 10 times more vitamin E, 35 percent more lutein and 25 percent less saturated fat when compared to ordinary eggs."

Candice's Favorite Foods with Benefits

-- Eggs -- Better for you eggs, such as Eggland's Best, are a lean protein source loaded with vital nutrients such as vitamin D, vitamin E, lutein, omega-3s, which are beneficial for heart health and healthy eyes.
-- Potatoes -- Filled with key nutrients such as fiber, iron and vitamins C and B6, which help regulate blood pressure and promote a healthy brain.
-- Asparagus -- A great source of fiber, iron, folate and vitamins A and K, which support the digestive system and fight inflammation.
-- Peaches -- Contain beta-carotene, vitamin C, potassium, fiber and antioxidants, which promote a healthy immune system and combat disease.

For more recipes like these, which are packed with nutritional benefits, visit www.egglandsbest.com.



Sweet Peach Custard PieMakes 12 servingsRecipe by Candice KumaiCrust       1/2    cup unsalted butter       1 1/4  cup flour       1      teaspoon sea salt       2      tablespoons sugar       3      tablespoons cold waterCustard       3/4    cup almond milk (unsweetened)       3/4    cup nonfat Greek yogurt       1      cup sugar       2      teaspoons cornstarch       1      teaspoon vanilla       2      tablespoons gluten-free flour       2      Eggland's Best large eggs       2      cups sliced peaches, fresh or frozen
Preheat oven to 350 degrees F.
Add butter, flour, salt and sugar into food processor and pulse until mixture has a sandy texture.
Add water in slowly, and pulse until dough comes together. Remove and form into a disc. Wrap in plastic and refrigerate for 1 to 2 hours.
Roll out dough and place in pie plate. Line crust with parchment paper and fill with dried beans.
Bake in oven for 10 minutes. Remove from oven to cool. Discard parchment and beans.
Whisk together milk, yogurt, sugar, cornstarch, vanilla and flour in a saucepan over medium heat for 5 to 7 minutes or until hot. Do not boil.
In separate bowl, whisk Eggland's Best eggs until smooth and frothy. Slowly add warm liquid mixture into eggs, a little at a time, whisking constantly. Let mixture stand 3 to 5 minutes until thickened enough to coat the back of a spoon.
Add custard mixture to cooled crust and top with peaches. Bake 55 to 60 minutes or until custard is set in the center. Chill before serving.