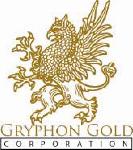 CARSON CITY, NEVADA -- (Marketwire) -- 02/14/13 -- Gryphon Gold Corporation (the "Company" or "Gryphon Gold") (TSX: GGN)(OTCQB: GYPH), a gold exploration, development and production company focused on its Borealis Oxide Heap Leach Project in Nevada (the "Borealis Property"), reported financial results for its third quarter of fiscal 2013, which ended December 31, 2012.

The Company reported revenue of $3.2 million in the third quarter of fiscal 2013 on sales of 1,904 gold equivalent ounces, compared with revenue of $0.9 million in the third quarter of fiscal 2012. Revenue in the trailing second quarter was $3.5 million on sales of 2,262 gold equivalent ounces.

During the third quarter, approximately 196,585 tons of ore was placed on the heap leach pad compared with 261,730 tons in the trailing second quarter. The Company produced 1,942 gold equivalent ounces in the quarter at a recovery rate of approximately 40% with an average cash cost per ounce of $1,292. For the first nine months of fiscal 2013, the average cash cost per ounce was approximately $1,346. This is a non-GAAP measurement, see page 4 for reconciliation.

James T. O'Neil Jr., CEO and Interim CFO of Gryphon Gold, commented, "We have continued to make progress in advancing the Borealis Property; however, necessary construction interruptions related to expansion efforts, unforeseen equipment difficulties at the Adsorption Desorption Recovery ("ADR") refining facility and inclement weather typical of this time of the year impacted our production and corresponding sales for the quarter."

Mr. O'Neil Jr. continued, "As we had previously noted, our capital was severely strained and, as a result, our Board of Directors reviewed a number of options with the objective to strengthen our financial position. The joint venture that was announced with Waterton at the end of January not only improved our balance sheet and our working capital, it also brought an ideal partner with extensive technical and operational expertise that we believe will be critical to maintain the initiatives currently underway, and advance the property to a level greater than previously thought, including stronger recovery rates and a longer mine life."

Joint Venture Agreement with Waterton Global Value L.P.

On January 31, 2013, Gryphon Gold entered into multiple agreements with Waterton Global Value L.P. ("Waterton") and a subsidiary of Waterton, forming a joint venture with Gryphon's subsidiary, Borealis Mining Company ("Borealis"). Under terms of the agreement, Waterton converted $17.0 million, or approximately two-thirds of amounts due under its Senior Credit Facility with Gryphon Gold for a 60% ownership interest in Borealis. Gryphon Gold will own a 40% interest in Borealis and the amount due under the Senior Credit Facility will be reduced to $8.0 million, which is to be repaid in monthly installments commencing on January 31, 2013 through the end of the term in November 2014. The reduction of the amount outstanding under the facility will reduce the Company's monthly debt payments by approximately $1.0 million to $0.4 million.

Additionally, Gryphon Gold and Waterton entered into an operating agreement which will govern the operational and financial obligations of both parties with respect to the joint venture.