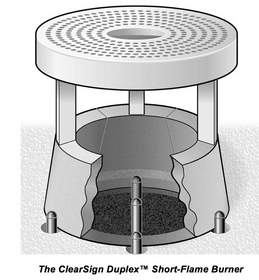 SEATTLE, WA -- (Marketwire) -- 02/14/13 -- ClearSign Combustion Corporation (NASDAQ: CLIR) today announced that it has developed and successfully demonstrated a novel two-tiered burner design. Unlike conventional burners that anchor the flame at a fixed location, the ClearSign design has two user-selectable locations at which the flame can alternately be anchored, with one positioned directly above the other. This allows a flame to be transferred from a lower flame holder to an upper level flame holder virtually instantaneously. When the control is cycled, the flame transitions from one stage to the other and is highly stable in either position.

When the flame is moved to the upper position it is cooled to inhibit NOx formation by the increased volume of flue gas that is now mixed with the fuel prior to ignition. The flame is also dramatically shortened because oxygen diffuses more rapidly as a result of this enhanced pre-ignition mixing.

The movement of the flame from one level to the next is controlled through the application of the company's Electrodynamic Combustion Control (ECC™) technology so that no mechanical parts or valves are required to effect the transition, and control of the burner can be easily integrated into virtually any digital control suite. ECC also helps to ensure flame stability in both positions.

According to the company this represents a significant innovation that promises to offer system operators an unprecedented level of control over flame shape and flame length -- while maintaining low NOx emissions.

The company said that preliminary results showed flame length could be reduced by as much as 80%.

"Having a short flame and low NOx at the same time is highly desirable, but is virtually impossible to achieve using conventional design techniques," said ClearSign CEO, Rick Rutkowski. "In fact, burners of this type are usually designed to elongate the flame to reduce NOx by exposing more surface area in order to lower flame temperature. While this flame-stretching technique is effective at reducing NOx, tall flames create a whole new set of problems."

"This has been a challenge that industry has wrestled with since the introduction of low NOx burners," said Joe Colannino, ClearSign's CTO. "A longer flame may mean lower NOx emissions, but it also imposes some costly penalties. The first one is simply that when you stretch the same heat energy out over a longer distance, you reduce the Btus per square foot of furnace volume, effectively de-rating the heater capacity."

"This innovation has the potential to remove the constraints that have previously defined the tradeoffs between environmental performance and process throughput operating range or fuel efficiency," Colannino added.

According to the company, the American Petroleum Institute has established guidelines which stipulate that flame length must not exceed 2/3 the height of the furnace. "Given the tradeoff between flame height and process capacity," Rutkowski adds, "adhering to these guidelines entails an enormous sacrifice."