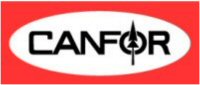 VANCOUVER, BRITISH COLUMBIA -- (Marketwire) -- 02/14/13 -- Canfor Pulp Products Inc. ("CPPI") (TSX: CFX) today reported net income of $4.7 million, or $0.07 per share, for the fourth quarter of 2012, compared to a net loss of $4.6 million, or $0.06 per share, for the third quarter of 2012 and net income of $15.8 million, or $0.22 per share, for the fourth quarter of 2011. For the year ended December 31, 2012, the Company's net income was $13.7 million, or $0.14 per share, compared to $138.6 million, or $1.94 per share, for 2011.

The Company reported operating income of $10.9 million for the fourth quarter of 2012, an increase of $19.1 million from an operating loss of $8.2 million reported for the third quarter of 2012, principally as a result of improved pulp segment earnings related to higher shipments and lower unit manufacturing costs, and to a lesser extent the impact of one-time items.

The following table summarizes selected financial information for the Company for the comparative periods:


                                  Q4       Q3        YTD        Q4       YTD(millions of dollars, except for per share amounts)                       2012     2012       2012      2011      2011----------------------------------------------------------------------------Sales                       $  201.9  $ 177.7   $  810.4  $  212.7  $  941.0Operating income (loss)     $   10.9  $  (8.2)  $   24.6  $   16.5  $  153.4Net income (loss)           $    4.7  $  (4.6)  $   13.7  $   15.8  $  138.6Net income (loss) per share, basic and diluted   $   0.07  $ (0.06)  $   0.14  $   0.22  $   1.94--------------------------------------------------------------------------------------------------------------------------------------------------------
Results in the fourth quarter of 2012 benefited from improved operating rates with total pulp and paper production up over 43,000 tonnes, or 17%, following the extended scheduled outage and subsequent ramp ups experienced in the challenging third quarter. The higher production levels enabled the Company to increase shipment volumes and rebuild inventory levels. Unit manufacturing costs improved 12% from the previous quarter, for the most part reflecting the impact of higher production volumes as well as lower fibre costs. Operating income for the current quarter included an accounting gain of $4.0 million reflecting amendments to the Company's salaried post retirement benefit plans, while the comparative quarter included one-time costs of $3.2 million associated with new five year collective labour agreements.
Global softwood pulp markets improved slightly through the fourth quarter of 2012 with increased softwood pulp purchases from China helping to offset weaker shipments to North America and Europe. Global softwood pulp demand was up 7% from the previous quarter, mostly reflecting increased purchases from China, with global softwood pulp producer inventory levels up 2 days, to 29 days supply, compared to the end of the third quarter.
Northern Bleached Softwood Kraft ("NBSK") pulp list prices showed a modest improvement in the fourth quarter with all regions seeing increases in the US$10 to US$30 per tonne range. Compared to the previous quarter, the average list price for North America was up US$10 to US$863 per tonne. The Company's average list price to China and price to Europe were up US$30 and US$23, respectively. Overall, however, pulp sales realizations moved up only marginally in the fourth quarter of 2012 as a result of increased volumes to lower-margin regions, principally China.