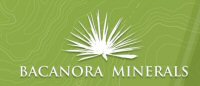 CALGARY, ALBERTA -- (Marketwire) -- 02/14/13 -- BACANORA MINERALS LTD. (the "Company" or "Bacanora") (TSX VENTURE: BCN) is pleased to announce it has executed a farm-in agreement with Rare Earth Minerals Plc ("REM"), a London Stock Exchange listed company (AIM: REM), to participate in drilling and project evaluation of the El Sauz and Fleur Lithium concessions in northern Mexico. El Sauz and Fleur are adjacent to and along strike from the La Ventana concession. The Company's latest inferred lithium resource estimate for Ventana (see Bacanora's Preliminary Economic Assessment for Ventana dated January 24, 2013 (the "PEA"), as previously disclosed in the Company's news release dated January 25, 2013) is 60 million tonnes believed to contain 930,000 tonnes of Lithium Carbonate Equivalent ("LCE") averaging 3,000 ppm Li (1.6% LCE).

About El Sauz and Fleur Concessions:

The El Sauz and Fleur concessions are 2 contiguous blocks, 3,411 hectares in area, that adjoint the La Ventana concession in Sonora, Mexico. El Sauz consists of a continuous 120+ metre thick volcano-sedimentary section exposed in an area that covers 1,200 X 400 metres in several outcrops. This section is composed of altered tuffs, white and green clays and silica layers similar in mineralization to Bacanora's Ventana lithium deposit. The section is gently dipping to the NE in the northern outcrops and to the SE in the southern portion and has a minimum stripping ratio since the clayey section is exposed on the surface.

Initial surface sampling at Sauz reported a general average of 1,000 ppm Li (with samples up to 7,220 ppm) and K average of 0.5% (min 0.26%, max 3.07%). These results were later confirmed in the PEA (which was filed on SEDAR - see Bacanora's SEDAR profile). The samples also returned values of cesium (a Rare Earth element) over 500 ppm and few samples over 10,000 ppm B (3.22% B2O3). The Fleur property consists of an unmeasured volcano-sedimentary section similar to Ventana and El Sauz. For further information on El Sauz please see Bacanora's news release dated April 17, 2012.

Highlights of the Farm-In Agreement:


--  REM has the option to acquire an initial 10% interest in the El Sauz and    Fleur concessions by virtue of REM paying Bacanora an upfront cash    consideration of $250,000 and spending $500,000 on exploration and    drilling at El Sauz and Fleur over a 6 month period.--  REM has the option to increase its interest to 30% by virtue of an    additional cash consideration of $500,000 and committing to a further    $1,000,000 in expenditures on drilling and exploration at El Sauz and    Fleur over 6 more months.--  REM will then have an exclusive option to negotiate terms to increase    from a 30% interest in the Concession's to a maximum of 49.9%.
Paul Conroy, President and Chief Executive Officer of Bacanora, states; "We view this agreement with REM as validation of Bacanora's recent lithium exploration results. We consider both El Sauz and Fleur as very prospective lithium concessions that when included with Bacanora's Ventana concession could amount to a world class lithium project. We look forward working with REM and on conducting meaningful exploration in the very near future."