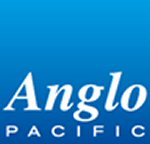 LONDON, UNITED KINGDOM -- (Marketwire) -- 02/13/13 -- Anglo Pacific Group PLC ('Anglo Pacific', the 'Group') (LSE: APF)(TSX: APY) is pleased to announce preliminary results for the year ended December 31, 2012. This release together with the Chairman's Review and accompanying financial statements are available on both the Group's website at www.anglopacificgroup.com and on SEDAR at www.SEDAR.com.


--  Final dividend increased by 4.5% to 5.75p per share (2011: 5.50p). Total    dividends for the year increased by 4.6% to 10.2p per share (2011:    9.75p)--  Royalty entitlements for the year of GBP 15.2 million (2011: GBP 35.0    million (restated))--  Operating profit of GBP 9.3 million (2011: GBP 31.8 million (restated))--  Queensland Government raises royalty rates by 25% to 12.5% above A$100    and 50% to 15% above A$150 sales price per tonne, which will directly    benefit future sales from the Kestrel mine made on or after October 1,    2012--  Total assets of GBP 353 million at December 31, 2012 (2011: GBP 371    million (restated))--  Continued growth of the Group's royalty portfolio during the year with    the acquisition of two new royalty interests in iron ore and uranium and    the recently announced gold royalty financing agreement with Hummingbird    Resources Plc--  Strong balance sheet at December 31, 2012 with a cash position of GBP    24.0 million (2011: GBP 32.2 million)--  El Valle-Boinas/Carles, gold and copper mine in Spain, building up to    full production in 2013--  Production at Kestrel expected to recover in 2013
Brian Wides, Acting Chairman of Anglo Pacific, commented:
"Despite production problems and delays at Kestrel during 2012, the Group achieved a solid performance over the year when the world economy stalled and commodity prices were weak. The increase in the independent valuation of our coking coal royalties illustrates that the rise in the Queensland coal royalty rates announced in September 2012 has more than offset any impact of weaker commodity prices.
"During the year, we acquired two new royalty interests and announced a gold royalty financing agreement with Hummingbird Resources Plc in the final quarter. The Group now owns a total of 22 royalty interests.
"We have been particularly encouraged by the progress across a number of the Group's development royalties, which we believe will bring forward future royalty cash flows. The Group's balance sheet remains ungeared with a strong and resilient asset backing.
"The Board is therefore pleased to propose a 4.5% increase in the final dividend and remains committed to offering long term returns to our shareholders."
Results Presentation and Audio Webcast:
An analyst presentation on the Group's preliminary results will take place at 9.30am February 13, 2013, at Pelham Bell Pottinger, 330 High Holborn, London, WC1V 7QD. In addition, there will be an audio webcast available on the Group's website, at
www.anglopacificgroup.com
, with a replay available shortly afterwards.