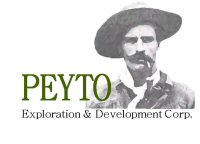 CALGARY, ALBERTA -- (Marketwire) -- 02/13/13 -- Peyto Exploration & Development Corp. (TSX: PEY) ("Peyto" or the "Company") is pleased to present the results and analysis of the independent reserve report effective December 31, 2012. The evaluation encompassed 100% of Peyto's reserve assets and was conducted by InSite Petroleum Consultants ("InSite").

Peyto's capital program for 2012 was the largest in the Company's 14 year history with $452 million spent on developing Peyto's assets and $166 million (net of dispositions) spent acquiring Open Range Energy Corp. ("Open Range"). As a result, reserves per share grew in all categories with total reserves exceeding 2.35 Trillion Cubic Feet equivalent ("TCFe") or 392 mmboe at year end.

Historical


--  Since the Company's inception in 1998, Peyto has explored for and    discovered 2.9 TCFe of Alberta Deep Basin natural gas reserves, over 50%    of which has now been developed. Each year the Company invests in the    discovery of new reserves and the efficient and profitable development    of existing reserves into high netback natural gas production.--  A total of $2.875 billion has been invested in the acquisition and    development of the 1.52 TCFe of developed reserves at an average cost of    $1.89/MCFe, while a weighted average field netback(1) of $5.24/MCFe has    resulted in a cumulative recycle ratio of 2.8 times.--  Based on the December 31, 2012 evaluation, the debt adjusted, Net    Present Value of the Proved plus Probable Additional reserves ("P+P NPV"    - debt adjusted, 5% discount) was $34/share, comprised of $20/share of    developed reserves and $14/share of undeveloped reserves.
2012 Highlights
--  For the year ended December 31, 2012, Peyto invested $452 million of    capital to build a record 25,700 boe/d of new production(1) at a cost of    $17,600/boe/d. This is the fourth year in a row that Peyto has built new    production for less than $18,000/boe/d, inclusive of land, seismic,    facilities and all well costs. In addition, Peyto invested $166 million    (net of disposition) to purchase Open Range whose production totaled    4,300 boe/d at December 31, 2012, for a cost of $38,600/boe/d. The    combined capital efficiency was $20,600/boe/d.--  The Proved Producing ("PP"), Finding, Development and Acquisition    ("FD&A") cost, inclusive of additions, revisions and production was    $2.22/MCFe ($13.34/boe) while the average field netback(1) was    $3.46/MCFe ($20.75/boe), resulting in a 1.6 times recycle ratio. PP F&D    cost prior to the Open Range acquisition was $2.11/MCFe ($12.68/boe).--  Peyto replaced 414% of production with new Total Proved ("TP") reserves    at a FD&A cost of $2.04/MCFe ($12.24/boe) and 527% of production with    new Proved plus Probable Additional ("P+P") reserves at a FD&A cost of    $1.68/MCFe ($10.07/boe) (including increases in Future Development    Capital ("FDC") of $207 million and $247 million for the respective    categories). For comparative purposes, FD&A costs before changes in FDC    were $1.53/MCFe ($9.17/boe) and $1.20/MCFe ($7.19/boe), respectively.--  Company reserves increased by 24%, 23% and 22% to 0.9 TCFe, 1.7 TCFe and    2.4 TCFe for PP, TP and P+P, respectively. Per share reserves were up    15%, 14%, and 13% for these respective categories.--  The Reserve Life Index ("RLI") for the PP, TP and P+P reserves was    maintained at 9, 15 and 22 years.--  At year end, P+P reserves of 392 mmboes (inclusive of 507 future    locations) had been assigned to just 13% of Peyto's total Deep Basin    rights.