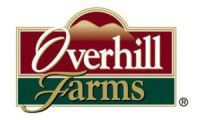 LOS ANGELES, CA -- (Marketwire) -- 02/13/13 -- Overhill Farms, Inc. (NYSE MKT: OFI) today reported revenues of $49.9 million, and net income of $331,000, or $0.02 per basic and diluted common share, for the first quarter of fiscal year 2013, which ended December 30, 2012.

This compares to revenues of $47.5 million and net income of $1.1 million, or $0.07 per basic and diluted common share, for the first quarter of fiscal year 2012, which ended January 1, 2012.

James Rudis, the Company's Chairman, President and Chief Executive Officer, said, "While we are pleased to report increased revenues and profitable operation in a market environment that continues to be extremely challenging, we recognize the necessity to expedite our efforts to move gross margins back toward historic levels."

"After several months of operational review and planning, we have launched a number of initiatives aimed at improving profitability, and are planning additional measures that we believe could be favorable to gross margins."

"Within the last month we have implemented product and promotional strategies to improve margins on our Boston Market line. We believe these changes should significantly increase margins for the brand over the next 12 months."

To improve its margins on its private label and foodservice products, Mr. Rudis said, the Company is currently negotiating price increases with customers as contracts renew, particularly for meals whose components have increased in cost significantly. "We believe that reasonable price increases are obtainable even in this highly competitive retail environment," he said.

In addition, Mr. Rudis said, "We have been working closely with our key customers to re-launch or replace low-margin products and items that have not met sales expectations." The Company recently received final approval to refresh a substantial portion of one customer's line of private label frozen foods, he noted.

The Company has negotiated significantly improved prices for ingredients and packaging with several suppliers, and is continuing to seek further cost reductions. "We are also looking at all of our products to see if cost savings can be achieved by outsourcing meal components we currently make or, conversely, by making components we now buy from others," Mr. Rudis said.

The Company is proceeding with a number of relatively low-cost, short-payback improvements for both of its manufacturing plants which will increase efficiency and capacity, and reduce labor costs, Mr. Rudis said.

To build on its success with the Boston Market line, the Company is seeking additional licensing agreements and is considering another brand that does not compete with the Boston Market line and could be complementary with it, Mr. Rudis said.

The Company is evaluating its sales and distribution agreement with Bellisio Foods, and possible alternatives, as it approaches the end of the agreement's current term, Mr. Rudis noted.

Mr. Rudis also stated that, in conjunction with its investment banking firm Piper Jaffray, it is reviewing a potential transaction. "We are currently engaged in discussions with an outside party. At this point it is not clear whether any transaction will occur, and the management team continues to operate the Company focused on its long-term growth," he said.