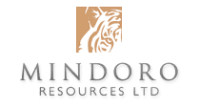 MELBOURNE, AUSTRALIA -- (Marketwire) -- 02/13/13 -- Mindoro Resources Ltd. (TSX VENTURE: MIO) (ASX: MDO) (FRANKFURT:WKN 906167) ("Mindoro") is pleased to provide an update on the joint venture projects with TVI Pacific Inc. (TSX: TVI) (OTCQX: TVIPF) ("TVI"), and its Philippines operating subsidiary TVIRD. Mindoro and TVI have signed four joint venture agreements, previously announced on July 6, Sept. 7 and Sept. 27, 2012, relating to the Agata and Pan de Azucar mining projects located in the Philippines on the Islands of Mindanao and Panay, respectively. The joint ventures present TVI and Mindoro with multiple growth opportunities for near-term and medium-term cash flow generating potential. Under the agreements TVIRD may earn up to a 60% interest and will act as operator of the projects. A management committee composed of senior management members of both TVIRD and Mindoro will oversee each of the projects.


--  Growth opportunities include:    --  near-term high iron (Fe) laterite direct shipping ore (DSO)        operation    --  near-term limestone DSO operation    --  medium-term pyrite material DSO operation    --  medium-term lime production facility    --  medium-term nickel (Ni) processing plant--  Development planning/permits are well-advanced for the high iron and    limestone DSO operations, both with potential to generate near-term cash    flow.--  Project Execution/Technology Development team fast-tracking Ni    processing plant using low-capex leaching technology.--  Ni processing plant capex is expected to be less than US$100 million;    estimated opex approximately US$4 per lb Ni, assuming use of imported    sulphuric acid.--  Pan de Azucar pyrite deposit being evaluated for both DSO of pyrite    material and production of sulphuric acid for the Agata Ni processing    plant to further reduce opex.
Mindoro currently holds a 75% interest in the Agata and Pan de Azucar projects and has the option to acquire an additional 25% in the Agata Project from its partner Minimax Mineral Exploration Corporation. If all options are exercised, TVI will have a 60% interest in the Agata Project and Mindoro 40%. Mindoro will be carried to production for the DSO stage, and through feasibility study for the processing stage.
Tony Climie, PGeol., and CEO of Mindoro, comments, "We are delighted with the rapid progress being made by the operator TVI, the exciting development opportunities unfolding, and the potential for early cash flow. After many years of assembling and advancing our Philippine project portfolio it is especially gratifying to see these approaching fruition".
In a TVI news release on the joint venture progress, Mr Clifford M. James, Chairman and CEO of TVI stated, "These projects comprise a pipeline of potentially long-life assets, capable of substantial, growing and continuous cash flow generation, which are expected to propel the company into a strong mid-sized, diversified miner. These are exciting opportunities and represent a major step forward for TVI."
TVIRD, as the operator of the projects, brings to the table a proven management team capable of project execution (the Project Execution/Technology Development team), on time and on budget. The Project Execution/Technology Development team for the Mindoro joint venture projects is composed of highly skilled technical experts who are familiar with the assets and the type of processing plant
technology
expected to be used.