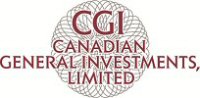 TORONTO, CANADA -- (Marketwire) -- 02/13/13 -- Canadian General Investment, Limited's (TSX: CGI)(TSX: CGI.PR.B)(TSX: CGI.PR.C)(LSE: CGI) net asset value at December 31, 2012 was $456,150,000, representing a 7.0% increase from the $426,413,000 at the end of 2011. CGI's net asset value per share (NAV) at December 31, 2012 was $21.87, up from $20.44 at year end 2011. The NAV return, with dividends reinvested, for the year ended December 31, 2012 was 10.8%, and the market value total return to shareholders was 3.4% compared with a 7.2% total return for the benchmark S&P/TSX Composite Index (S&P/TSX).

A degree of optimism spurred the S&P/TSX to a good start for the year and drove the Index to its 2012 daily peak in late February. This initial rally soon subsided and was replaced with an increasing amount of pessimism, causing markets to descend steadily in the following couple of months. This trend took its performance return numbers firmly into negative territory and established a bottom in May, followed by a choppy recovery by year end. Despite these ups and downs, the Index traded in a narrow range, which was indicative of the cautious mood permeating markets throughout the year. There were few, if any, dramatic catalysts that caused dynamic and permanent shifts in the market outlook during the year. Most of the global, macro issues of recent years are still outstanding and, as a result, investment decisions based entirely on fundamentals remained difficult. In 2012, as it turned out, investors were rewarded for their patience and commitment to stay the course. For example, the net price gain in the entire final quarter of the year of the S&P/TSX was decided on the final trading day of the year. A couple of CGI's portfolio disciplines were of benefit in this type of market - low relative turnover rates and full investment positioning.

Canadian markets were held back by returns in the resource sector in 2012. Uncertainty about global demand resulted in generally weakened pricing for most commodities and negatively influenced most related equities. The Energy and Materials sectors were the two worst performing groups in the Index with -3.6% and -6.9% price returns in the year, respectively, and combined with their mid-40s percentage weighting, had considerable influence on overall results. These groups also negatively impacted CGI's results as well in spite of actions taken to reduce the Energy weighting in the early part of the year and to make dispositions in Materials.

However, the bottom-up selection process produced some differentials with a few holdings in these areas producing large returns and helping to offset a portion of the general decline. Franco-Nevada Corporation, one of the Company's biggest holdings, was the largest dollar-value gainer for the year and its 40% return made a significant contribution to the portfolio's overall net gains. In the Energy group, Pacific Rubiales Energy Corp, the largest Energy holding, posted gains greater than 20% for the year, a clear outperformer amongst its peers. Long-term holdings TransCanada Corporation and Enbridge Inc. continue to grow in size and provided stability, income and capital appreciation once again. They also were positive differentiators for the Company in this area.