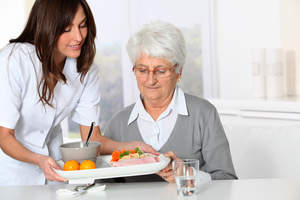 BALTIMORE, MD -- (Marketwire) -- 02/13/13 -- Brimstone Allon Enterprises has launched Dietary Manager Online, a web enabled dietary management software program for long-term care, assisted living facilities, and hospitals. This innovative new food service management software provides a highly customizable solution for healthcare professionals seeking to track resident nutrition, manage inventory, and coordinate the efforts of their team from a user-friendly internet portal.

"We understand that if we are going to deliver the full value of our system to our customers, we have to go above and beyond to help them. It's not enough just to give them web-enabled software. We work to ensure that they have support from an assigned customer service representative, with experience in the industry, who will work hand in hand with their team. Many of our competitors take months, sometimes more than a year, to get fully up and running. We want our customers to be fully integrated in sixty days (Rick Valway, CEO of Brimstonel Allon Enterprises, LLC)."

Multiple User Profiles

Dietary Manager Online allows administrators to register up to ten different team members, each with a user profile customized to their specific role in the facility's food service team. When an individual user logs in to their account, they are presented with options that are specific to their responsibilities, making the system highly intuitive and efficient. If a team member's duties are limited to production, and they only need to work with inventories and menus, their security access can be restricted to protect sensitive patient information.

Food Costing and Inventory Software

With healthcare facilities under growing cost pressures, as the Federal government cuts back on reimbursements, food is one of the areas where cost reduction is very difficult. The key to cost-efficiency in dietary management is to identify needs, and work with the right products to meet those needs, while controlling production costs and reducing waste. Dietary Manager Online assists in that process immediately, as the initial installation of the system includes a process of inventory rationalization, in which all menus (including resident-specific menus) and products are evaluated to ensure that the facility is getting the best value for their purchasing dollar.

"One of the things that sets Dietary Manager Online apart from other web based systems is the fact that our customers will get everything they need as part of the product cost. Resident tracking, menus, recipes, nutrition -- all the components of dietary management are included as part of the package. We work with the facility to rationalize and review those specific components to make sure they're buying the best products for the recipes they're using (Bill Valway, COO at Brimstonel Allon Enterprises, LLC)."