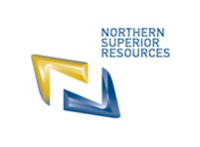 SUDBURY, ONTARIO -- (Marketwire) -- 02/12/13 -- Northern Superior Resources Inc. (TSX VENTURE: SUP) ("Northern Superior" or the "Company") is pleased to announce that it has initiated its 2013 Croteau Est/ Waconichi drill programs. The programs will consist of both core and reverse circulation ("RC") drilling, and are designed to: a) expand its Croteau Est gold discovery within the Croteau-Bouchard shear zone (CBSZ) (see press release, January 16, 2013); b) test the extension of the CBSZ; and c) test for additional mineralized zones on both the Croteau Est and the adjoining Waconichi gold property immediately to the north.

The CBSZ is host to significant gold mineralization and represents an important gold discovery within the Chibougamau-Chapais gold camp. The shear zone is currently defined along a 1.1km along strike length, is up to 180m wide and drill intersected below 500m depth. The mineralized structure is open along strike in both directions and at depth (see Figure 1). The Croteau Est discovery lies within this shear and is currently defined over 850m along strike, up to 150m wide and to 525m depth, also open along strike in both directions and at depth. To date, several high grade lenses have been defined within the CBSZ (see press release Jan. 16, 2013). The winter 2013 core drilling program has been designed to test and define the up-plunge extension of these high grade gold lenses near surface within the CBSZ. The program will also test a strong target north of the CBSZ that is associated with the parallel, or a sub-parallel, Croteau Nord shear zone.

Northern Superior feels that the potential of additional mineralization on both the Croteau and Waconichi gold properties is considered to be high, as demonstrated by the Company's 2012 exploration results. The Company will be initiating a 100-hole regional RC drilling program designed to evaluate targets associated with three major crustal scale faults that are thought to act as the regional structural controls for mineralization elsewhere in the Chibougamau-Chapais district. In addition, 10 specific sites have been selected for targeted RC drilling, with 60 holes planned (see Figure 2). This component of the exploration program includes funds for 1,800m of core drilling and small scale trenching to test targets identified from the RC drill program.

Dr. T.F. Morris, President and CEO commented: "The Company is very pleased with the potential that the CBSZ and Croteau-Nord shear zones specifically represents, and the overall potential for discovery on the remainder of the property. The Company looks forward to further defining that potential with the 2013 exploration program just initiated."

Ti-paa-haa-ka-ning (TPK) Gold Property

Northern Superior continues to pursue a partner for its TPK, New Growth, and New Growth Annex properties (collectively the "TPK" property) located in northwestern Ontario. The Company is very encouraged by the interest expressed thus far in the TPK property.

The Company's Qualified Persons ("QP") for the Croteau Est gold property are Ron Avery, P.Geo. and Michel LeBlanc, P.Geo. As QP's, Mr. Avery and Mr. LeBlanc have prepared or supervised the preparation of the scientific and technical information for this program and have verified the data disclosed in this press release. The Company has a rigorous QA/QC program in place to ensure best practices in sampling and analysis of drill core are maintained. All drill core is marked for sampling and then split in half by means of a rock saw equipped with a diamond saw blade. Samples are placed in sealed bags with security tags. All samples were assayed using a standard fire assay, using a nominal 30 gram nominal aliquot weight with an AA finish. High-gold samples were re-analyzed by fire assay with a gravimetric finish. Third party, commercially prepared standards, blanks and duplicates are inserted into the sample sequence at the rate of one in every fifteen samples. ALS Canada Ltd. performed the primary assaying with duplicates analyzed at AGAT Laboratories in Sudbury. ALS Canada Ltd. and AGAT Laboratories implement independent QA/QC protocols that include the insertion of certified blanks and standards as part of their routine analysis.