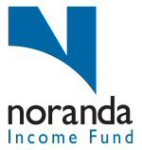 SALABERRY-DE-VALLEYFIELD, QUEBEC -- (Marketwire) -- 02/12/13 -- Noranda Income Fund (the "Fund") (TSX: NIF.UN) had a strong fourth quarter.


Q4 2012 and Subsequent Highlights------------------------------------------------------------------------------  The Fund completed an internal reorganization that eliminated the    requirement for an in-kind distribution, starting in fiscal 2012--  The Fund issued a monthly cash distribution of $0.04167 per unit to    Priority Unitholders in all twelve months of 2012, and in January of    2013--  The Fund increased its 2013 capital investment program by $20 million to    improve the Processing Facility's silica removal capability--  The Board of Trustees, through its Independent Committee, has retained    the services of an industry consultant to assist in identifying possible    alternative sources of zinc concentrate after the expiry of the Supply    and Processing Agreement--  Earnings before finance costs and income taxes were $24.3 million (Q4    2011 - $2.4 million)--  Zinc metal production set a new quarterly record at 74,748 tonnes (Q4    2011 - 67,504 tonnes). The previous record was 70,358 tonnes in the    third quarter of 2002--  Zinc metal sales were 67,511 tonnes (Q4 2011 - 63,655 tonnes)--  Zinc premiums were 7.5 cents US per pound (Q4 2011 - 5.8 cents US per    pound)--  By-product revenues were $12.2 million (Q4 2011 - $11.2 million)    --  Sulphuric acid netback was US$80 per tonne (Q4 2011 - US$73 per        tonne)    --  Copper in cake production was 790 tonnes (Q4 2011 - 594 tonnes)    --  Copper in cake sales were 734 tonnes (Q4 2011 - 585 tonnes).Conference Call and Webcast:February 13th at 8:30 a.m. EST    Dial in number: 416-340-8527    Toll-free North American number: 1-877-240-9772
In addition, you can listen to the teleconference and view the slide presentation from the Noranda Income Fund website:
http://www.norandaincomefund.com/investor/conference.html
or click on this link: http://events.digitalmedia.telus.com/noranda/021313/index.php
Recording of the Conference Call:    Dial in number: 905-694-9451 or    Toll-free North American number: 1-800-408-3053.
The pass code is 8788 350# and you will be prompted for your name and company. The recording will be available until midnight on February 27th, 2013.
Zinc Concentrate Supply
In 2012, the Fund advised that with the closure of Brunswick Mine, the Processing Facility may be required to treat concentrate with higher levels of impurities in the future. While the feed mix is expected to be within the specifications set out in the Supply and Processing Agreement, the Fund determined it was important to increase its silica removal capability. In the fourth quarter of 2012, the Fund increased its 2013 capital investment program so that the Processing Facility could treat a more varied feed quality mix. Approximately $20 million will be invested in 2013 to do so.
Also in the fourth quarter of 2012, the Processing Facility received an increased supply of zinc concentrate. Over 2013, the increased concentrate availability will allow for flexibility in blending the new with the current feed mix and it will ensure a gradual transition. Going forward, the ability of the Processing Facility to treat a wide variety of zinc concentrate feeds is required so that it can continue to operate at full capacity.