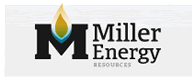 KNOXVILLE, TN -- (Marketwire) -- 02/12/13 -- Miller Energy Resources ("Miller") (NYSE: MILL) releases an update today on its operations both in Alaska and in Tennessee.

Alaska Rework Update
Miller announced today that its wholly owned Alaskan subsidiary, Cook Inlet Energy ("CIE"), led by David Hall, successfully completed a work-over on RU-3 natural gas well on its Osprey platform on February 11, 2013. This is the second successful gas well CIE has brought online in the last two weeks. RU-3 is currently flowing and being unloaded in preparation for four-point flow test, test results forthcoming. Gas production from RU-3 is expected to be exported to help meet gas demand in the Cook Inlet.

CIE successfully re-established gas production from the Tyonek G-0 sand, which had been unable to produce gas since it was unsuccessfully reworked by a previous operator in December 2003. RU-3 encountered an average of 20 feet of net gas pay across an estimated 150-acre reservoir. The zone produced a total of 452 MMscf between May and December of 2003. The well went off production due to mechanical problems and had subsequently been plugged back to a shallower zone for an attempted completion. CIE successfully completed a complex fishing job to remove materials and equipment left in the wellbore from this previous completion attempt in order reopen the deeper proven reservoir and reestablish production.

Company estimates a minimum of 1.2 BCF of remaining reserves should be available from the zone. Immediately prior to going off production in December of 2003, the well was producing in excess of 2.0 MMcfd.

Over the past few weeks, CIE has been conducting simultaneous operations on RU-D1, RU-3, RU-4 and RU-7. Two weeks ago it announced the successful completion of the RU-4 gas well in Lower Tyonek sands, and since then, that well has been producing at approximately 1 MMcfd. CIE has also been conducting operations to replace a failed electric submersible pump (ESP) and add new perforations to its RU-7 oil well and is nearing 50% complete in those activities. In addition to the above, CIE is adding 34' of new perforations in its RU-D1 Class I disposal well to increase injectivity.

Tennessee Drilling Update
In its Tennessee operations, Miller completed its second successful horizontal oil well in the Fort Payne formation, the Maynard H-1, on February 4, 2013.The Maynard H-1 showed the same traits as the CPP-H-1 well with shows of oil and gas throughout the horizontal section of the well and is presently flowing back oil and treatment fluid. With these two wells being the first of their kind in Tennessee, Miller plans to take a methodical approach to completing and producing the two horizontal wells. This methodology will include testing various pumping methods, pressure maintenance programs and proper well configuration in order to maximize the horizontal drilling program in Tennessee. Two more horizontal wells are scheduled to begin within the next 45 days.

About Miller Energy Resources

Miller Energy Resources, Inc. is an oil and natural gas exploration, production and drilling company operating in multiple exploration and production basins in North America. Miller's focus is in Cook Inlet, Alaska and in the heart of Tennessee's Appalachian Basin including the Mississippian Lime and the Chattanooga Shale. Miller is headquartered in Knoxville, Tennessee with offices in Anchorage, Alaska and Huntsville, Tennessee. The company's common stock is listed on the NYSE under the symbol MILL.