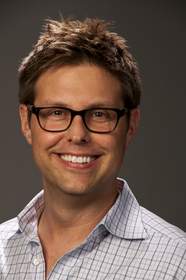 Terry Young, CEO and Founder of sparks & honey



NEW YORK, NY -- (Marketwire) -- 02/12/13 -- sparks & honey, a next generation cultural identification agency, along with premier Conscious Media content provider GaiamTV.com, today released a new report detailing the explosive growth and continued integration of Conscious Media into mainstream media and culture.

The study, titled "The Explosion of Conscious Media," reveals that an astonishing 100 million people in the U.S. are already tuning into Conscious Media -- defined as content that combines spiritual and scientific concepts to inspire awakening and awareness, drawing from both eastern and western traditions. The sparks & honey/GaiamTV.com report identifies who is consuming Conscious Media, where it can be found and the cultural shifts driving its adoption.

"The explosive demand for Conscious Media is not simply a topic of conversation, but rather a new way of thinking," said Patricia Karpas, Gaiam TV Senior Vice President, Strategic Partnerships. "GaiamTV.com's collection of Conscious Media uses the power of conversation, videos and documentaries to raise awareness and provide new perspectives. GaiamTV.com is thrilled to be ahead of the curve in creating, aggregating and curating content in this important category. We are fully committed to bringing more Conscious Media to our audiences."

Using sparks & honey's proprietary trend-spotting methodology, the report involved in-depth content analysis, Conscious Media expert interviews and the study of more than 1,800 consciousness influencers including Deepak Chopra, Eckhart Tolle and Jay Weidner.

The study expects the expansion of Conscious Media to prompt rapid growth in audience interest, inciting the marketplace to respond with more compelling conscious content over the next five years.

The start of 2013 has already begun to demonstrate this growing popularity. Just last month, The Huffington Post used the Consumer Electronics Show (CES) to launch a website and app named "GPS for the Soul" to utilize mind-and-body wellness techniques to combat stress, and prominent holistic health guru Deepak Chopra introduced his new meditation device, Dreamweaver, on CONAN.

sparks & honey CEO and Founder Terry Young said, "Pairing our unique approach to identifying emerging cultural trends with Gaiam TV's inherent understanding of the Conscious Media movement has allowed us to deliver a roadmap for brands to deeply connect with consumers and pursue conscious business principles."