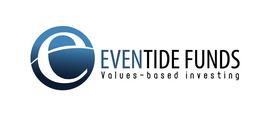 BOSTON, MA -- (Marketwire) -- 02/12/13 -- Eventide Asset Management, LLC, a Boston-based investment advisory firm that is committed to biblically responsible investing, has launched the Eventide Healthcare & Life Sciences Fund on December 27, 2012. The Eventide Healthcare & Life Sciences Fund is a non-diversified fund that uses bottom-up fundamental research to find healthcare and life sciences companies with the potential to appreciate in value as positive data is released regarding clinical trials and FDA feedback, and market acceptance of products. The Fund has four share classes: (NASDAQ: ETNHX) (N), (NASDAQ: ETIHX), (I), (NASDAQ: ETAHX) (A), and (NASDAQ: ETCHX) ©.

Healthcare and life sciences companies include those companies that derive or are expected to derive 50% or more of their revenue from healthcare and life science products and services including, but not limited to, biotechnology, pharmaceuticals, diagnostics, life science tools, medical devices, healthcare information technology, healthcare services, synthetic biology, agricultural and environmental management, and pharmaceutical manufacturing products and services. These companies include smaller development-stage companies.

According to lead portfolio manager Finny Kuruvilla, MD PhD, despite revolutionary advances in biology, we've only witnessed its nascency. Dr. Kuruvilla commented: "There is what I call an 'opportunity vacuum' for health and life sciences, as scientific understanding significantly outpaces approved treatments it the marketplace. This highly addressable pipeline, combined with the deepening pockets and growing appetites of large biopharma, promise exciting investment opportunities well into the future." In support of this investment thesis, Kuruvilla cited a recent report from Morgan Stanley and Thomson Reuters indicating a widening gap between the free cash flow of large biopharma companies and the entire US smid-cap biotech market capitalization. In other words, "Large biopharma has more money to spend than there are opportunities to buy, and the gap is widening, not closing," said Kuruvilla.

In addition to a compelling investment thesis, investors should be attracted to the Eventide Healthcare & Life Sciences Fund because of the expectation of diversification benefits in broad investment portfolios. According to the Morgan Stanley Strategy team, biotechnology has the most non-correlation of any industry group. This is especially true of small-cap biotechnology companies, where risks are typically more tied to company-specific events -- such as, clinical trial data releases and FDA feedback -- than to macro-economic forces.

The Eventide Healthcare & Life Sciences Fund will be managed by Eventide's lead portfolio manager, Finny Kuruvilla, MD PhD. Dr. Kuruvilla has been primarily responsible for the day-to-day management of the Eventide Gilead Fund since its inception on July 8, 2008. The Eventide Gilead Fund is a diversified mutual fund that primarily invests in small and mid-cap growth companies. Under his leadership, the Eventide Gilead Fund's no-load class has returned an annualized performance of 11.08% from July 8, 2008 to December 31, 2012 net of all fees, while the S&P 500 has returned 4.88% and the Russell Midcap Growth Index 6.00%. The fund has garnered numerous awards from the Wall Street Journal for its outperformance since inception in July 2008.