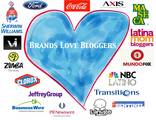 MIAMI, FL -- (Marketwire) -- 02/11/13 -- Los blogueros latinos y multiculturales recibirán un regalo antes del Día de San Valentín, cortesía de los patrocinadores de Hispanicize 2013 y la red Latina Mom Bloggers.

Gracias al fuerte apoyo corporativo de algunas de las principales marcas, compañías mediáticas y agencias de marketing hispanas de la nación, los organizadores de Hispanicize 2013 anunciaron el regreso de su programa "Brands Love Bloggers" por segundo año consecutivo que ofrecerá pases gratuitos a más de 125 blogueros latinos y multiculturales para asistir al evento anual de tendencias latinas. Hispanicize 2013 (http://www.HispanicizeEvent.com) tendrá lugar del 9 al 13 de abril en el Eden Roc Hotel de Miami Beach. (Vea aquí el video especial de 1 minuto de Hispanicize 2013: http://bit.ly/hispz13Rising).

"Este programa es más grande que el del año pasado, testimonio de que las marcas y las agencias hispanas están clamando por involucrar a las florecientes comunidades de blogueros latinos", expresó Manny Ruiz, fundador y director creativo de Hispanicize 2013.

Piera Jolly, presidenta de Latina Mom Bloggers, añadió: "Estamos muy contentas de hacer posible una vez más este programa para los blogueros. El evento de este año permitirá que los blogueros tengan acceso directo sin precedentes a las marcas y sus agencias, así como a excelentes oportunidades de blogs, sesiones de desarrollo profesional, establecimiento de contactos y entretenimiento".

Entre los patrocinadores de Hispanicize 2013 que contribuyen específicamente a esta iniciativa figuran: Coca-Cola, MundoFox, Sherwin-Williams, Ford, The Clorox Company, Maseca, ViSalus, Transitions, NBC Latino, The Axis Agency, JeffreyGroup, Lanugo, Business Wire, PR Newswire y muchas otras marcas más. Pronto se revelarán los principales patrocinadores del evento —importantes empresas de Fortune 500 con amplios planes de participación de blogueros.

QUIENES CALIFICAN

Los 125 pases de acceso completo a los eventos están disponibles para blogueros latinos y multiculturales que hayan estado blogueando regularmente durante al menos un año y llenen un breve formulario en línea http://bit.ly/VPOEu9. Puede participar una amplia gama de blogueros desde aquellos dedicados al entretenimiento, hasta la crianza de niños, moda y tecnología. Los blogueros calificados que ya han pagado para asistir a Hispanicize 2013 y cumplan con los criterios serán reembolsados.

No es necesario que los blogueros formen parte de la red Latina Mom Bloggers para calificar y pueden ser indistintamente hombres o mujeres. Un comité nacional encabezado por miembros de la junta asesora de Hispanicize 2013 y la red Latina Mom Bloggers seleccionará las solicitudes de los blogueros y notificará con prontitud a aquellos que califiquen. Se dará prioridad a los blogueros que no asistieron a Hispanicize el año pasado. Todos los criterios de selección se encuentran en la página de inscripción.