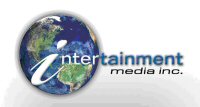 TORONTO, CANADA -- (Marketwire) -- 02/11/13 -- Ortsbo, Inc. (a subsidiary of Intertainment Media Inc. (TSX VENTURE: INT)(OTCQX: ITMTF)(FRANKFURT: I4T)) continues to advance on the corporate strategy and business plan announced in November of 2012. To date, Ortsbo has executed contracts and has begun rolling out programs with major brands in the gaming, customer care, corporate communications and social network business lines, with more contracts in execution stage. Each contract is revenue focused in line with the plan communicated at the Intertainment Annual General and Shareholder Meeting ("AGM") on November 28, 2012.

"I know people are anxious for news," says Ortsbo President and CEO, Patrick Bultema. "The challenge has been we are signing deals with very large brands and companies. That's the great news. However, it's been a bit more challenging to get releases out because we are working with such large brands that generally schedule releases far in advance. What I can disclose at this point is we have multiple deals signed that are already generating revenue to plan. What's more, we are seeing growing traction and signing deals across all of the business lines. I had hoped to have more specific announcements out before now, but candidly working through the communications organizations and processes of these large brands is simply taking longer than expected."

Reiterating the corporate strategy, Ortsbo is monetizing the business along three lines: Global Commercial Communications; Gamification; and Cross-Language Social Networks. The Global Commercial Communications line is about enabling businesses to communicate with their customers across languages for valued business objectives. One such area is multi-lingual customer care, today a $200 billion plus market. Ortsbo Global Customer Care makes it possible for an agent in a low cost geography, to provide customer care to customers around the globe across a range of languages. Or similarly, Ortsbo Global Market Communication makes it possible for global companies to communicate with customers for product launches, social marketing, more effectively and at lower cost, and this represents an almost $700B spend worldwide. Ortsbo Gamification provides cross-language functionality for online games, a huge theme for the increasingly online and global player phenomenon. In fact, online gaming is a $40B a year industry and growing. And the Ortsbo Social Network line focuses on social networks where cross-language capability is a key feature and need.

In some business lines, Ortsbo is going to market with partners. In others it is more of a direct market approach. In all cases, we have customers and partners signed pending eminent news.

Unless otherwise indicated, the Company reports revenues quarterly in arrears as per the requirements of the TSX Venture Exchange and other regulatory bodies.

Intertainment continues to move forward with its US initiatives for spinning out assets as it maintains its "incubator model". The Company is working with counsel and strategic advisors focusing on opportunities to maximize long-term value, including relocation of key assets from Canada to the US . Intertainment has received interest from a number of US investment banks to support this process and the Company will continue to update stakeholders and expects to further report within the timeframe of the estimated 90 to 120 days as it set out at the AGM.