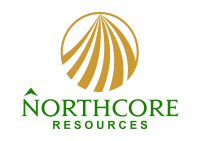 MONTREAL, QUEBEC -- (Marketwire) -- 02/11/13 -- Northcore Resources Inc. (TSX VENTURE: NCR) ("NCR" or the "Corporation") announces the closing of its first tranche private placement of an amount of $120,000 according to TSX-V rules and regulations. The proceeds of this first tranche private placement will serve to pay the following creditors of the Corporation:


Consultant fees $25,500Legal firm fees $4,306.22Auditor fees $50,000Administration fees $518.64TSX fees 862.31Proxy & regulatory/ communications $84.44Transfer Agent fees $8,623.15Property Payment $29,794.13Total : $119,688.89
Also, the Corporation wishes to disclose that all the directors of said Corporation duly approved this first tranche private placement as well as the use of proceeds.
The TSX Venture Exchange has not reviewed and does not accept responsibility for the adequacy or accuracy of this press release.


Contacts:
Daniel Coch
Chairman of the Board of Directors
(403) 605-7465
Northcoreres@gmail.com