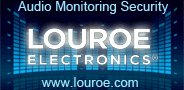 RYE BROOK, NY -- (Marketwire) -- 02/12/13 -- ImageWare Systems (OTCQB: IWSY), Wave Systems (NASDAQ: WAVX)

Louroe Electronics

Mr. Richard S. Brent, C.E.O., Louroe Electronics, told us, "The application of audio monitoring enables many options for the professional integrator of security systems. Within the security marketplace there are several vertical sectors such as access control, perimeter management, loss prevention, and life safety. Outside security industry uses the opportunity for is virtually endless. Audio monitoring for patient services such as sleep treatment labs, and operating centers, family programs, such as child protective services are another non-security application. The Entertainment Industry such as casinos and theme parks. House of worship facilities are also a market for our products. Louroe Electronics provides integrated security solutions for a plethora of commercial environments."

For the complete interview with Richard Brent: http://www.securitystockwatch.com/Interviews/in_Boardroom_Lourue.html.

For more information about Louroe products: http://www.louroe.com/our_products.php
For Louroe Distributors: http://www.louroe.com/distributors.php
For more information about Audio & The Law: http://www.louroe.com/audio_law.php
For the Louroe Blog: http://www.louroe.com/blog.php

*****

ImageWare Systems

ImageWare Systems recently announced, "In addition to product development, ImageWare has been preparing for a major international deployment as the exclusive provider of biometric identity management for a prime contractor installing cargo scanning security at the Republic of Ecuador's major seaports. The initial deployment is currently scheduled to begin in the early part of 2013 at the Port of Guayaquil, the country's main seaport that handles a majority of its imports and exports. ImageWare expects to receive a fee for every port worker receiving credentials, as well as an annual management and maintenance fee, based on a percentage of the initial credentialing cost per worker. Depending upon the number of enrollees, the company expects the contract value to exceed $3.0 million over its seven year term."

"The high-end biometric secure credentialing solution we are providing for Ecuador is the same technology being deployed for the Los Angeles World Airports, which we announced earlier this year," noted Jim Miller, Chairman and CEO. "In fact, we can easily replicate this platform for virtually any port system that needs transportation worker identification cards in order to comply with the SAFE Port Act. Not only are our solutions easily deployable, for ImageWare they generally represent gross margins above 70% as well as a recurring revenue stream. Our unique patented technology has the potential to provide us strong, steady revenue growth, along with excellent forward-looking visibility."