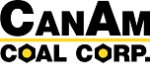 CALGARY, ALBERTA -- (Marketwire) -- 02/11/13 -- CanAm Coal Corp. (TSX VENTURE: COE)(OTCQX: COECF) ("CanAm" or the "Company") is pleased to report coal production and sales for the year ended December 31, 2012. Consolidated Q4 2012 coal sales were 154,000 tons, a 95% increase over Q4 in the prior year. For the year ended December 31, 2012, consolidated coal sales were 455,000 tons, a 73% increase over the prior year. Q4 coal production was a record 174,000 tons, including 24,100 tons of metallurgical coal.


Three Month Period Year Ended Ended Dec 31 Dec 31 Dec 31 Dec 31 2012 2011(i) 2012 2011 ---------------------------- ------------------------Metallurgical coal 21,168 14,925 68,182 56,950Thermal coal 132,590 63,848 387,205 206,446 ---------------------------- ------------------------Total 153,758 78,773 455,387 263,396 ---------------------------- ------------------------ ---------------------------- ------------------------Note: CanAm holds 80% ownership in Birmingham Coal & Coke (BCC) followingits acquisition of an additional 30% interest, effective July 1, 2012. As atthat date, CanAm began consolidating the financial results of BCC inaccordance with generally accepted accounting principles and, accordinglythe above information is presented on a consolidated basis and includes 100%of BCC's sales and production volumes.(i) Restated to reflect a comparable October to December 2011 quarter. Lastyear's reported quarter only comprised two months (November & December2011).
The significant increase in both sales and production is attributable to a combination of a) an increase in the Company's ownership in BCC, which was effective July 1, 2012, b) improved production performance at our existing mines c) production from our new Old Union 2 mine, which commenced operations at its first pit in late October, and d) improved strip ratios. Q4 production exceeded sales by approximately 20,000 tons. This was mainly attributable to reduced sales in the latter part of December as a number of our customers reduced hours or closed operations during the Christmas period, which impacted December sales. These customers accelerated their shipment schedules in January 2013 to make up for the shortfall. Sales of metallurgical coal were up 42% from the prior year and were 37% higher than in Q3 of 2012.
During Q4, the Company experienced strong production performance at its Powhatan, Bear Creek and Old Union mines. Management and operational changes instituted in the first half of the year were a key factor explaining this improvement, particularly at Powhatan. As disclosed in our Q3 MD&A, the Company took the decision in Q4 to temporarily suspend operations at the Gooden Creek mine and to move forward the start dates of its second and third pits at the Old Union 2 mine from mid-2013 to Q1 2013. The Company is pleased to report that both pits entered production in late January. Mining at Old Union 1 is substantially complete and production will cease by the end of February 2013.
As previously reported, the Company received final permitting from the Alabama Surface Mining Commission for its Knight and Posey Mill 2 mines. The Knight mine, which replaces the Bear Creek mine (expected to be mined out in the first half of 2013) commenced production in late January 2013. Mine development is underway at the Posey Mill 2 mine with first production planned before the end of Q1 2013. Looking forward into 2013, the Company is expecting continued growth in production and sales as it brings on full production from its newly permitted mines.
Company President and CEO, Jos De Smedt commented: "CanAm achieved significant production and sales growth in Q3 and Q4 and full 2012 was another record year for the Company. Since 2010, which was the first year of production for CanAm, we have seen our sales increase almost ten-fold, from 48,000 tons in 2010 to 256,000 tons in 2011 to a record 455,000 tons in 2012. With our new mines fully permitted and initial mine development nearing completion, further significant growth is expected in 2013. In addition, the Company's $11 million investment in new equipment in 2012 positions CanAm to efficiently optimize production and sales from these new mines. With these building blocks in place, we look forward to strong growth in 2013."
The Company is expected to release its audited full year financial results in April 2013.
About CanAm Coal Corp.
CanAm is a coal producer and development company focused on growth through the acquisition, exploration and development of coal resources and resource-related technologies. CanAm's main activities and assets include its operating coal mines in Alabama and the Buick Coal Project which holds significant coal resources, 188 million indicated and 103 million inferred resources, in Colorado, USA (see the technical report entitled "Limon Lignite Project, Elbert County, Colorado, USA," dated October 26, 2007 and filed on SEDAR on November 2, 2007). Other coal and related opportunities continue to be evaluated on an ongoing basis.
Forward-Looking Information and Statements
This news release may contain certain forward-looking information. All statements included herein, other than statements of historical fact, is forward-looking information and such information involves various risks and uncertainties. There can be no assurance that such information will prove to be accurate, and actual results and future events could differ materially from those anticipated in such information. A description of assumptions used to develop such forward-looking information and a description of risk factors that may cause actual results to differ materially from forward-looking information can be found in the Company's disclosure documents on the SEDAR website at
www.sedar.com
. The Company does not undertake to update any forward-looking information except in accordance with applicable securities laws.
Neither the TSX Venture Exchange nor its Regulation Services Provider (as that term is defined in the policies of the TSX Venture Exchange) accepts responsibility for the adequacy or accuracy of this release.


Contacts:
CanAm Corporate Office:
Jos De Smedt
President & CEO
403.262.3797 or Toll Free: 1.877.262.5888
jdesmedt@canamcoal.com

Brisco Capital Partners:
Scott Koyich
Partner
403.262.9888
scott@briscocapital.com