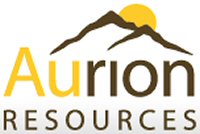 ST. JOHN'S, NEWFOUNDLAND -- (Marketwire) -- 02/11/13 -- Aurion Resources Ltd. ("Aurion") (TSX VENTURE: AU) is pleased to provide the following exploration update.

SUMMARY


--  Aurion currently has three active joint ventures, including two in    Nevada and one in British Columbia, and anticipates partner-funded    drilling on at least two during 2013, pending receipt of applicable    permits.--  Aurion is well financed with $3 million cash and a low operating burn    rate.--  Aurion is continually reviewing property submissions in a number of    jurisdictions and has recently acquired two new gold projects in Nevada    (see below) that it is confident it can advance economically and    systematically to attract a joint venture partner.
JOINT VENTURE PROJECT UPDATE
Logan Pass, Nevada, USA - Prospective for Carlin-type gold deposits and located south of the Eureka-Battle Mountain Trend. The property is host to a greater than 400 m by 150 m sub-horizontal zone of gold mineralization in silty carbonates of the Pogonip Formation, host to mineralization at the Long Canyon deposit of Newmont. Drilling in 1993 reported intercepts of 1.8 g/t Au over 6.1 m and 1.5 g/t Au over 9.15 m. No modern exploration since the early 1990's. Airborne and ground geophysics, mapping and geochemical sampling by Aurion and Terra Rossa, has identified several priority targets. A 1500-2000 m drill program is currently being permitted with anticipated start-up in Q2-Q3 2013.
Bull, Nevada, USA - Prospective for Carlin-type deposits and located on the southern part of the Battle Mountain-Eureka Trend. Previous workers in limited drilling in 1994 intercepted 3 m of 2.05 g/t Au within a 9.15 m intercept grading 1.15 g/t Au starting at approximately 15 m below the surface. Airborne geophysics (ZTEM/Mag), mapping, prospecting, geochemical sampling and compilation by Aurion, linked the mineralized outcrops with the extension of the controlling structure of Midway's Goldrock deposit to the south, and nearing production. The Bull property is optioned to Midway Gold Inc.. Midway has advised Aurion that an exploration program, which may include drilling, is currently being planned for 2013.
Lavington, BC, Canada - Prospective for porphyry Cu-Au and epithermal Au-Ag deposits and located in south-central BC, near the town of Vernon. The property is host to an extensive 1500 m by 400 m alteration zone, with coincident Au-in-soil geochemical and IP geophysical anomalies. Limited drilling in the late 1980's intersected 0.31 g/t Au over 125 m within a portion of this alteration zone. The property is optioned to Asher Resources (ACN.P). A $250,000-$300,000 drill program is planned for 2013.
PROJECTS AVAILABLE FOR OPTION
Southpaw, Nevada, USA - Prospective for Carlin-type deposits and located immediately north of and adjacent to Logan Pass. It is geologically similar to Logan Pass but stratigraphically higher. Aurion outlined gold mineralization in jasperoid breccias over an area of 250 m by 225 m and sampling returned assay results up to 19.3 g/t Au (grab) and 2.6 g/t Au over 4.0 m which occur within a 3000 m long by 350 m wide Au-in-soil geochemical anomaly. Seeking new JV partner.