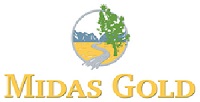 VANCOUVER, BRITISH COLUMBIA -- (Marketwired) -- 10/18/13 -- Midas Gold Corp. (TSX: MAX) (OTCQX: MDRPF) today announced that its shares are now quoted on OTCQX International, a segment of the OTCQX marketplace in the U.S., which should provide for greater access to the U.S. capital markets and an additional trading platform for shareholders.

Midas Gold initiated its quotation today on OTCQX International under the ticker MDRPF. Investors can find real-time quotes, disclosure and financial information for Midas Gold at www.otcqx.com and www.otcmarkets.com.

"Midas Gold is pleased to be providing our current and future shareholders with access to this additional trading platform," commented Stephen Quin, President & CEO of Midas Gold Corp. "A quotation on the OTCQX marketplace is a natural progression for Midas Gold since its Golden Meadows gold-silver-antimony-tungsten project is located in Idaho, USA and we already have a significant number of U.S. shareholders."

The U.S. investment bank, Cowen and Company, serves as Midas Gold's Principal American Liaison ("PAL") on the OTCQX International and is responsible for providing guidance on OTCQX requirements and arranging a comprehensive suite of U.S. capital markets services.

"We are very pleased to be working with Midas Gold to make the best of its OTCQX trading. We look forward to supporting Midas Gold's experience in the United States," said Chris Weekes, Managing Director, Cowen and Company, International Markets Group.

About Midas Gold and the Golden Meadows Project

Midas Gold Corp., through its wholly owned subsidiaries, is focused on the exploration and, if warranted, development of gold, silver, antimony and tungsten deposits in the Stibnite-Yellow Pine district of central Idaho. The principal deposits identified to date within the project area are the Hangar Flats, West End and Yellow Pine deposits, all of which are associated with important structural corridors. Independent mineral resource estimates were reported for all three deposits and reported in a news release dated June 27, 2012; these estimates are detailed in a technical report entitled "Preliminary Economic Assessment Technical Report for the Golden Meadows Project, Idaho" dated August 15, 2012, (the "Technical Report"), which is available on Midas Gold's website at www.midasgoldcorp.com or under Midas Gold's profile on SEDAR at www.sedar.com. This Preliminary Economic Assessment outlines one concept for the development of a large scale, long life, low cost open pit gold mining operation producing gold and by-product silver and antimony based on the estimated mineral resources, as well as outlining a number of opportunities for potential environmental, financial and technical enhancements of the conceptual project that are currently being evaluated.

About Cowen Group, Inc.

Cowen and Company, the broker-dealer business of Cowen Group, Inc. (NASDAQ: COWN), provides industry focused investment banking for growth-oriented companies, domain knowledge-driven research services and a robust sales and trading platform to companies and institutional investor clients. Sectors of focus for the business include healthcare, technology, telecommunications, aerospace and defense/industrials, consumer, energy, metals and mining and transportation. Founded in 1918, Cowen Group is headquartered in New York and has offices located in major financial centers around the world. For more information, visit www.cowen.com.