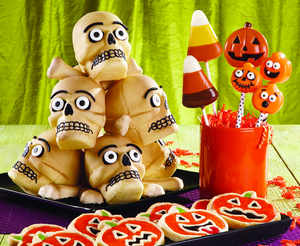 Tower of Horror Treats, Jolly Jack-o-Lantern Cookies, Happily Haunted Lollipops, Spirited Pumpkin Cake Pops


MISSION, KS -- (Marketwired) -- 10/17/13 -- (Family Features) This Halloween, throw a wickedly wonderful fete for family and friends. With help from the Wilton entertaining experts, you'll have all the tricks to treat your guests to a spooky celebration that will leave them howling with delight. Halloween's not just for the kids anymore, so before you put on your costume, grab your baking and decorating supplies and get ready to let the creepy crawlers loose.

"Halloween is the one time of the year that you can take your decorating skills to the dark side," said Nancy Siler, vice president of consumer affairs at Wilton. "From finishing pumpkin cookies with ghastly grins to creating creepy cakes decorated like graveyard skulls, it's the perfect holiday to have some fun in the kitchen."

Try these tips from the Wilton test kitchen for tasty and terrifying treats:

•Creepy Cupcakes: Transform traditional cupcakes into other worldly creations by decorating with eyeballs, spider webs or candy corn. Set up a decorating table during your Halloween party and let kids make their own creepy creations. •Trick the Treat: Swap out the standard packaged treats for homemade sweets. Wrap cookies, pumpkin cake pops and lollipops in decorative party bags for a fearfully fun take-home treat. •Mummy Wrap: Dress up your Halloween treats with themed baking cups. Pumpkins, mummies and ghosts are an instant way to give your party extra personality. •Stack the Skulls: Turn the crouque-en-bouche, a popular French dessert, on its head by replacing cream puffs with mini-skeleton skulls. To increase the scare factor, mix in bone-shaped cookies and antique the treats with Candy Melts candy and Color Mist food color spray.

Try these recipes for Pumpkin Cake Pops and Graveyard Crouque-en-Bouche for a spook-tacular Halloween party. For more unique decorating ideas and recipes visit www.wilton.com.

Tower of Horror Treats



Skull Cakes:Makes 8 skulls4      cups all-purpose flour2 2/3  cups granulated sugar1      tablespoon ground cinnamon2      teaspoons baking powder1      teaspoon baking soda1/2    teaspoon salt1/2    teaspoon ground cloves       Pinch ground nutmeg1-1/3  cups vegetable oil4      eggs2      cups applesauce       Buttercream icing
Preheat oven to 325 degrees F. Prepare Dimensions Mini Skull Pan with vegetable pan spray.
In large bowl, combine flour, sugar, cinnamon, baking powder, baking soda, salt, cloves and nutmeg. In small bowl, whisk together oil, eggs and applesauce. Add to dry ingredients, stirring until well combined. Fill each cavity about 2/3 full with 1/3 cup batter. Reserve remaining batter.
Bake 30 to 35 minutes or until toothpick inserted in center comes out clean. Cool in pan 15 minutes. Remove to cooling grid and cool completely. Bake remaining batter as above.