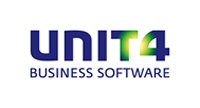 VICTORIA, BRITISH COLUMBIA and MANCHESTER, NEW HAMPSHIRE -- (Marketwire) -- 01/09/13 -- UNIT4 Business Software, the North American subsidiary of UNIT4 (EURONEXT AMSTERDAM: UNIT4), the global enterprise software provider for Businesses Living IN Change (BLINC)™, has issued its annual list of trends and predictions for the coming year. For 2013, UNIT4 Business Software expects the following trends to affect the industry and customers alike:

1. Millennials' "Minimize/Maximize" Phenomenon: The tidal wave of teenaged technology consumers at the turn of the millennium is now emerging as an R&D changing force in the business technology world. Their tastes and preferences for clean, zero-training technology interfaces, supported by devices with powerful, super-smart capabilities, is literally revolutionizing business app production. These now-emerging managers and business leaders have rejected old-school technology approaches, and software companies that recognize and respond with new user experiences - versus point and click interfaces - will win.

2. On-Premise Data Center Desertions: While on-premise data centers will remain for many corporations for select purposes/operations, clear evidence exists that there is growing corporate/organizational comfort with off-loading data into the cloud for routine and repetitive purposes. A hybrid approach is emerging for many companies in 2013 that will enable the redeployment of valuable organizational resources into activities more germane to business building and efficiency supporting. Software and services companies that offer a "choice" of multiple deployment options will best satisfy the market as these data center decisions are made.

3. Organizational Democratization and Flattening: Challenging economic times for many vertical market sectors have led to a reordering of organizational roles/responsibilities to reduce management layers and create more efficient workflows empowering a greater number of users. Today's more egalitarian, decentralized workforces will be margin-impacting factors in a new, flatter, more democratized workforce.

4. Analytic Activism: Gone will be the days when month-old, week-old, or even day-old data drive critical organizational decisions. And gone are the days when "the best" technologies for supporting decisions are executive dashboards allocated to a small handful of executives. A loud and emerging cry for more bite-sized analytic software applications - for specific purposes -- will drive decision-making down to levels throughout the organizational structure.

5. Social Collaboration Ports Over to Business: The consumerization of IT has also shown the business world that corporate branding/reputation is now inextricably tied to the opinion of "the masses." What's more, emerging opportunities to collect information from customers and prospects using social media tools will increasingly become the single most powerful force in determining everything from human resource to capital planning to R&D decisions. Watch in 2013 for an increasing array of embedded social capabilities in business software.